It's a blast to name just about any dog, but tiny dogs are especially fun, given how cute pint-sized pooches are and how many adorable, funny, and clever names you can choose!
To that end, we've compiled a complete guide of tiny dog names for your furry friend. We'll try to help you pick out a fitting choice for your tiny dog below!
Tiny Boy Dog Names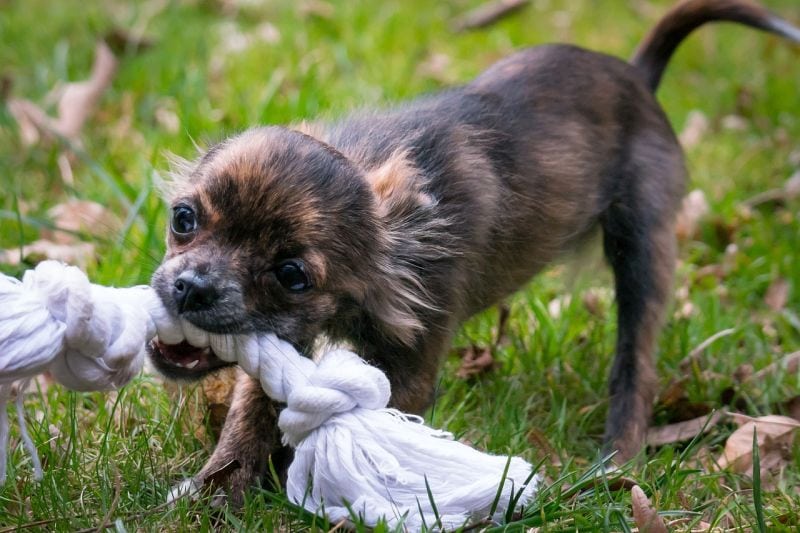 If you have a baby-sized boy at home, here are some perfect tiny boy dog names that will suit him well. 
Alex
Almond
Archie
Atlas
Atom
Baby
Basil
Bear
Beau
Benji
Betsy
Bing
Bingo
Blue
Bo
Bob
Buddy
Buster
Captain
Charmer
Chico
Clive
Cooper
David
Doug
Eli
Elvis
Fabio
Felix
Ford
Fox
Frank
Freckles
Garfield
Goose
Gus
Gustavo
Harley
Homer
Hopper
Huckleberry
Igor
Imp
Jack
Jasper
Jax
Jay
Jim
Joey
Kai
Kit
Leo
Leprechaun
Logan
Lou
Mac
Martin
Max
Maximus
Mel
Mister
Moe
Mustard
Nacho
Olaf
Oliver
Oscar
Otis
Otto
Peanut
Pepper
Percy
Pickle
Pluto
Pongo
Puddles
Pumba
Raisin
Remy
Rex
Roo
Roy
Rudy
Samson
Shorty
Sprout
Tadpole
Tate
Tater Tot
Tim
Toby
Tom
Tonto
Treasure
Tucker
Twig
Twiglet
Uno
Waffles
Waldo
Wasp
Winnie
Wolfie
Yoshi
Zibby
Tiny Girl Dog Names
Do you have a small sweetheart? Check out some of these tiny girl dog names for your diminutive darling below. 
Abby
Allie
Angel
Apple
Aurora
Bailey
Barbie
Birdie
Bluebell
Bonnie
Boop
Callie
Carly
Chai
Chanel
Charlotte
Cherry
Chica
Clementine
Coco
Cookie
Cutie
Daisy
Dakota
Darling
Deb
Delia
Delilah
Demi
Dixie
Dora
Doris
Dot
Duchess
Ellie
Elsa
Fairy
Fergie
Fifi
Flo
Frida
Gidget
Gigi
Goldie
Gracie
Gypsy
Halo
Hattie
Honey
Ivy
Jellybean
Jojo
Jolene
Joy
Kiki
Kiwi
Koda
Ladybug
Locket
Lottie
Lucille
Luna
Maggie
Maisie
Marley
Matilda
May
Mia
Midge
Millie
Mimi
Minnie
Missy
Molly
Myrtle
Nala
Nessie
Olivia
Myrtle
Nala
Nessie
Olivia
Pancakes
Pat
Peach
Pearl
Peggy
Periwinkle
Persimmon
Petunia
Pippa
Pixie
Polly
Pony
Poppy
Prim
Pumpkin
Queen
Quin
Ria
River
Robin
Rosie
Ruby
Sadie
Sassy
Spicy
Sugar
Sunny
Sweet Tea
Sweetie
Teacup
Tessa
Thumbelina
Tia
Tillie
Tootsie
Wendy
Willow
Zuzu
Funny and Ironic Tiny Dog Names
If your pooch has a small body but a huge personality, one of these hilarious names is sure to solidify his character. Any of these names is bound to make a fun choice.
Apollo
Bacon
Beanie Baby
Bigfoot
Biggie
Bitsy
Bonbon
Bruiser
Chaos
Chicken
Chocolate Chip
Chunkie
Clifford
Cricket
Diesel
Diva
Dodo
Dumpling
Eggroll
Feisty
Fig Newton
Giant
Godzilla
Goliath
Grumpy
Hagrid
Hot Dog
Hulk
Jumbo
King
Kitty
Meatball
Monster
Moose
Nugget
Oreo
Pinto
Popcorn
Rambo
Rebel
Sparky
Spike
Spicy
Squeak
Squirrel
T-Bone
Taco
Tank
Texas
Tic-Tac
Tiger
Titan
Tyson
Xena
Yeti
Zeus
Sweet and Adorable Tiny Dog Names
Sweethearts come in packages of all sizes! Here are some downright adorable tiny dog names for your fur babies.
Bean
Bee
Bestie
Biscuit
Bitty
Blueberry
Boba
Boots
Bubbles
Bug
Butterball
Button
Hiccup
Hobbit
Marshmallow
Mouse
Munchkin
Pebbles
Ping Pong
Pipsqueak
Poptart
Runt
Shorty
Snickers
Socks
Sprinkle
Squirt
Squishy
Sushi
Sweet Pea
Sweetie
Teddy
Tiny
Tiny Dog Names in Other Languages
If you want to honor a certain culture or if your fun-sized friend has a rich ancestry, here are a couple of tiny dog names in other languages.
Petit (French, meaning small)
Chingu (Korean, meaning friend)
Pequena (Spanish, meaning small)
Lille (Danish, meaning small)
Pascal (French, meaning mischievous)
Hana (Korean, meaning one)
Bambino (Italian, meaning baby)
Lucio (Italian, meaning light)
Delgado (Spanish, meaning skinny)
Gretchen (German, meaning pearl)
Amie (French, meaning friend)
Arvin (German, meaning friend to all)
Leon (French, meaning lion)
Corrado (Italian, meaning bold)
Jwi (Korean, meaning mouse)
Anka (German, meaning purse)
Baffi (Italian, meaning mustache)
Marta (German, meaning lady)
Pieni (Finnish, meaning small)
Bajo (Spanish, meaning short)
Fleur (French, meaning flower)
Ursula (German, meaning little female bear)
Catarina (Italian, meaning pure)
Klein (German and Dutch, meaning small)
Jakda (Korean, meaning little)
Alena (German, meaning small)
Ping (Chinese, meaning cookie)
Tito (Italian, meaning giant)
Piccolo (Italian, meaning small)
Dan (Korean, meaning sweet)
Cool Names for Tiny Dogs
Cool canines deserve a name that captures their pawfect personalities. Here are some of our favorite cool names for tiny dogs, which is make a fitting choice for any hound with some extra spunk. 
Ace
Aspen
Bandit
Blaze
Bolt
Bullet
Calamity
Cleo
Clover
Colt
Comet
Dice
Dusty
Echo
Electra
Elf
Fang
Flash
Gadget
Gizmo
Jet
Katniss
Katniss
Micro
Mojo
Muse
Nano
Neutron
Nymph
Ozzy
Paws
Racer
Rascal
Scamp
Scout
Spud
Talon
Yogi
Ziggy
Famous Tiny Dog Names
Perhaps you'd like to name your tiny pooch after a famous figure. Check out these names inspired by your favorite characters, historical figures, and celebrities.
Anna Paquin: This True Blood actress stands 5'5″ tall and is a dog lover herself (she's particularly fond of border collies).
Bambi: This young deer learns the way of the forest with help of his friends in the Disney classic.
Bamm-Bamm: This adorable cave-baby was the son of main character Barney Rubble in The Flintstones.
Betty Boop: This small animated cartoon character was known for her bubbly personality.
Bono: The U2 frontman and singer stands 5'6″.
Chaplin: The silent actor Charlie Chaplin was 5'5″.
Dobby: Dobby is a small creature in the Harry Potter series who serves as a house elf.
Dolly Parton: This esteemed country singer is a compact 5′.
Elton John: This music mogul was known for wearing platform shoes in some of his extravagant performances.
Ewok: Ewoks are adorable compact Star Wars creatures that are skilled forest-dwellers.
Flea: This founding member of The Red Hot Chili Peppers has a name that would fit perfectly for smaller canine companions.
Mickey Mouse: The small but spirited Mickey Mouse is arguably the most famous Disney character.
Mike Wazowski: This short sidekick helps Sully in Monster's Inc.
Mr. Peanut: This character is known for selling Planters Peanuts with his dapper appearance.
Napoleon: This French military leader was actually fairly average in height, though the work of political cartoonist James Gillray portrayed him as much shorter.
Nemo: This small clownfish gets lost in the beloved Disney film Finding Nemo.
Munchie: One of the most famous shih tzus is Munchie, Beyonce's beloved dog.
Oompa-Loompa: In Willy Wonka, Oompa-Loompas are the tiny workers that help make candy.
Paddington: Paddington bear was a fictional bear cub that was the star of the children's book series by the same name.
Pee-wee: This comedian and actor isn't necessarily short, but he was bound to keep you entertained through his endless TV specials.
Picasso: This esteemed Spanish painter was 5'4″.
Piglet: Winnie the Pooh's best friend Piglet is a small and timid miniature pig.
Pippi Longstocking: This small but strong character was known for her bright, red hair and fearless attitude.
Porscha: Brittney Spears' beloved new puppy.
Prince: The iconic musician who was only 5'2″.
Rigby: Rigby was one of the most famous Bichon Frise pups as Susan Sarandon's dog.
Scrappy: Scrappy was Scooby-Doo's nephew known for his brave and energetic personality, despite being a puppy.
Scuttle: Ariel's friend Scuttle was an eccentric seagull in The Little Mermaid.
Shirley Temple: This actress appeared on screen for the first time when she was just three years old.
Slinky: Slinky was the dog from Toy Story who showcased unending faith in Woody.
Smurf: These beloved blue creatures were so small that they could make houses out of mushrooms.
Snoopy: This beagle was one of the most loved characters in The Peanuts franchise.
Tiny Tim: This oddball musician was well-loved for his distinct voice, often accompanied with ukulele.
Tom Thumb: This short circus performer came to fame under the famous P.T. Barnun.
Toto: Toto the Cairn terrier is one of the most famous movie dogs known for The Wizard of Oz.
Voltaire: The influential philosopher Voltaire stood at just 5'3″.
Yoda: This small creature often steals the show in Star Wars.
Special Considerations for Small Dogs
In many ways, owning a small dog is similar to owning a large dog. But there are a few things you'll want to keep in mind when trying to care for your pint-sized canine.
For example, be sure to:
Tiny Dog Names FAQ
Are you still having trouble finding the perfect name for your fun-sized furry friend? Here are a couple of common questions and answers to help you find a fittingly adorable choice.
What's a good name for a tiny dog?
There are plenty of excellent tiny dog names! You can choose an obviously fitting name like "Peanut" or opt for something more unique like "Aspen."
What are some feisty little dog names?
For feisty furry friends, consider personality-packed names like "Spicy" or "Rebel."
What are some funny dog names for a small dog?
There are plenty hilarious names for small hounds! Consider choice picks like "Beanie Baby" or something more ironic like "Hulk."
What are some unique tiny dog names?
If your diminutive darling is a dime a dozen, consider unique tiny dog names like "Midge" or "Nymph."
***
Even More Dog Name Ideas!
Need more inspiration? Check out some of our other dog-name articles!
Tiny terriers and pint-sized Pekingeses are some of the cutest pooches around, so make sure that you give your diminutive doggo a good name for his small size! Did we miss any compact canine names?
Let us know your favorite tiny dog names in the comments below!