Are you seeking a snappy name for your sweet canine companion? A one-syllable dog name is certainly worth considering. These brief names for your best buddy are easy to call out and can hold a lot of meaning despite their brevity. 
Below, we'll share some of our favorite singly syllable dog names so that you can find the perfect name for your furry friend. 
Male One-Syllable Dog Names
If you need a masculine name for your mutt that isn't a mouthful, you've come to the right place. Here are some one-syllable dog names for your good boy. 
Abe — "Father of many"
Al — "Noble"
Art — Short for Arthur, meaning "bear"
Ben — "Son"
Bill — "Resolute protector"
Bo — "Strong, fast"
Bob — "Famed"
Boy — A young male human
Bly — "Tall"
Branch — Perfect for a stick-loving pooch
Brent — "From the Hilltop"
Bruce — "Woods"
Brock — "Badger"
Buck — "Male deer"
Burt — "Bright"
Caine — Irish name for "battle"
Cal — "Devotion"
Cale — "For God"
Carl — "Strong one"
Clark — "Scribe"
Clay — "To stick together"
Chad — "Battle"
Champ — Short for champion
Chet — "Fortress"
Chief — A leader or ruler
Chris — "Christ-bearer"
Coe — "Hollow in the hill"
Cort — "Brave"
Clint — "From the headland estate"
Clive — "Cliff"
Colm — "Peace"
Craig — "Rocky hill"
Crew — "Fort near a slope"
Cy — "Sun"
Dale — "Valley"
Dave — "Beloved"
Dax — "Leader"
Dean — "Leader"
Drake — A male duck
Dwayne — "Swarthy"
Earl — "Nobleman"
Ed — "Protector"
Finn — "Fair"
Ford — "Shallow place of the river"
Frank — "Honest"
Franz — "free man"
Fritz — "Soldier"
George — "Farmer"
Grant — "Greatness"
Greg — "Fierce"
Gus — "Great"
Guy — Informal term for male human
Hall — "One who worked in a manor house"
Heath — "Wasteland" 
Hugh — "Intelligent"
Max — "Great" 
Jace — "Moon" 
Jake — "Raised up" 
James — "Replacer" 
Jay — "Swift" 
Jeb — "Beloved friend" 
Jed — "Friend of God" 
Joe — "God will give" 
John — "Graced by God" 
Judd — "Praised" 
Jim — "May God protect" 
Juan — "God is gracious" 
Jude –"Praised" 
Keane — "Tall and handsome" 
Keb — "Earth" 
Keefe — "Cherished" 
Keith — "From the battlefield" 
Kent — "Edge"
Khan — "Leader" 
Kid — "Young goat" 
Kirk — "From the church" 
Klauss — "Leader in victory" 
Knox — "From the hills" 
Kurt — "Polite" 
Kyle — "Narrow" 
Lad — "Attendant" 
Lance — "Spear" 
Lang — "Tall" 
Lee — "Meadow" 
Leif — "Beloved descendant" 
Len — "Like a lion" 
Lev — "Heart" 
Lex — "Protector" 
Luke — "Light" 
Lyle — "Islander" 
Lotte — "Free man" 
Mac — "Son of" 
Mark — "Warlike" 
Matt — "Gift of God" 
Mars — "God of war" 
Mel — "Mill worker" 
Mike — "God-like" 
Miles — "Soldier" 
Mitch — "Gift from God" 
Mole — "An unknown spy" 
Nash — "Adventurer" 
Nate — "Gift of God" 
Ned — "Wealthy guardian" 
Neil — "Champion"
Niall — "Victor" 
Nick — "Victorious" 
Nike — "Victory"  
Oz — "Strength" 
Paul — "Small" (a great tiny dog name)
Park — "Gourd" 
Pete — "Rock"
Pike — "A fish"
Price — "Enthusiasm"
Quince — "Fruit"
Ram — A male sheep
Reece — "Fiery"
Reed — "Red-haired"
Reeve — "Steward"
Rex — "King"
Rhett — "Stream"
Rick — "Powerful"
Roy — "Red"
Ruff — "Red-haired"
Rye — "Island meadow"
Scott — "Wanderer"
Sean — "God is gracious"
Serge — "Servant"
Seth — "Appointed"
Shep — Short for shepherd
Sid — "Wide island"
Sir — Polite greeting for a man
Skeet — "Swift"
Smith — "Tradesman"
Steve — "Crowned one"
Stig — "Warnder"
Spence — "Keeper of provisions"
Spruce — "Neat"
Sven — "Young"
Tad — "Father"
Tag — "Handsome"
Taj — "Crown"
Thane — "Warrior"
Thor — "Thunder"
Tim — "To honor God"
Todd — "Fox"
Tom — "Twin"
Trace — "Brave"
Trent — "Flooder"
Trist — "Full of sorrow"
Troy — "Foot solider"
Twain — "Cut in two"
Twix — After the popular candy bar
Tyke — A small child
Val — "Power"
Vin — "Victorious"
Vox — "Voice"
Wade — To cross water
Walk — "Army general"
Wayne — "Wagon maker"
Wes — "West meadow"
Will — "Protector"
Zack — "Remembered by the lord"
Zayne — "God is gracious"
Zed — "Lord is righteous"
Zeke — "God strengthens"
Zhen — Chinese name for "treasure"
Female One-Syllable Dog Names
Are you seeking something short for your sweetheart? Here are some single syllable dog names for your female four-footer. 
Ann — "Gracious"
Bao — Chinese for "creative"
Bay — Sea inlet
Bea — "Blessed"
Belle — "Beautiful"
Beth — "Lively"
Bess — "Pledged to God"
Bette — "God is my oath"
Bex — "To tie firmly"
Bree — "Strong-one"
Brooke — "Small stream"
Britt — "Strong"
Blaire — "Meadow"
Blyth — "Cheerful"
Bjork — "Birch Tree"
Cat — "Pure"
Cass — "Wealthy"
Ceil — "Blind"
Cher — "Beloved"
Claire — "Bright"
Clove — "Flower"
Dame — "Lady"
Dawn — "Sunrise"
Dee — "Swarthy person"
Dew — Condensation droplets
Doe — "Female deer"
Dove — "Peace"
Eshe — Swahili for "life"
Eve — "Life"
Faith — "Complete trust or devotion"
Fleur — French for "flower" 
Fern — Named after the plant
Flo — "Flourishing" 
Gayle — "Joy of the father" 
Gwen — "Blessed" 
Hope — A positive expectation (check out our other dog names that mean "hope")
Jade — "Stone of the colic"
Jane — "Gracious" 
Jazz — Style of American music
Jean — God is "gracious" 
Jez — "Not exalted" 
Jinx — "Charming" 
Jill — "Young" 
Joan — "Gift of God" 
Joy — "Happiness"
Jules — Youthful 
June — "Young"
Kate — "Pure" 
Kay — "Rejoice" 
Keats — "Kite" 
Kim — "Clearing the royal fortress" 
Lara — "Cheerful" 
Liv — "Olive tree" 
Liz — "God's promise" 
Lyn — "Waterfall" 
Lu — "Warrior"
Lux — "Light" 
Mae — "Goddess of springtime"
Madge — "Pearl"
Mai — "Brightness"
Maude — "Strong in war"
May — "Princess"
Meg — "Child of light"
Mia — "Mine"
Midge — "Small"
Ming — Chinese for "shining bright"
Nan — "Gracious"
Nell — "Brightness"
Niamh — "Bright"
Noor — Arabic for "bright"
Nyx — "Night"
Peg — "Pearl"
Plum — Tasty tree fruit
Quinn — "Wise"
Rae — "Grace"
Rozz — "Fair rose"
Ruth — "Companion"
Sam — "God hears"
Sarge — "A man of the military"
Saul — "Asked for"
Shea — "Majestic"
Sue — "Lily"
Thi — Vietnamese for "single female"
Ume — Japanese name for "plum-blossom"
Yule — "Over the horizon"
Gender-Neutral One-Syllable Dog Names
Whether your pooch is a boy or a girl, these gender-neutral dog names make a great fit for plenty of pooches. These one-syllable dog names are also easy to say so that you can quickly get your furry friend's attention.
Ace — "Unity" 
Alex — "Man's defender" 
Ash — "Happy" 
Blake — "Dark-haired" 
Black — A nickname for dark-haired people
Blaze — "Flame" 
Blue — "Sad"
Brave — "Courageous"
Bryn — "Hill" 
Bing — "A heap" 
Bliss — "Cheerful person"
Boyd — "Light" 
Chance — "Good luck" 
Cove — Dwelling
Dale — "Valley" 
Firth — "Edge of the forest" 
Gem — Precious stone 
Gray — Fun name for an old dog
Greer — "Watchful" 
Hug — German word meaning "intelligence"
Joan — "God's gracious" 
Kerr — "Wet ground" 
Kit — "Hopeful" 
Lark — "Songbird" 
Lee — "Clearing" 
Loop — "Endless process
Love — "Female wolf"
Monk — Servant employed at a monestary
Neve — "Snow"
Oak — Acorn bearing tree
Ork — "Humanoid creatures"
Pace — A set speed
Paige — "Attendant"
Pat — "Noble descendant"
Paz — "Peace"
Pearl — "Gem of the sea"
Pip — "Attractive"
Pop — Soda
Posh — Elegant
Puff — Burst of air
Quake — Shake or tremble
Quest — "Long search"
Quip — A witty remark
Rain — Precipitation
Red — A nickname for red-haired people
Riff — A repeated musical phrase
Ritz — Glamorous
Rune — A secret
Sage — "Wise woman"
Scar — A healed wound
Scout — The first explorer
Scud — To move fast in a straight line
Sleuth — Detective
Slick — Smooth 
Snow — Frozen precipitation
Sol — Spanish name for "sun" 
Song — "Praise"
Spark — Latin for "to scatter"
Spike — "Long, heavy nail"
Splash — "To dash a liquid"
Spot — "A small area of visibly different color"
Star — "Luminous astronomical object"
Steed — "A man of mettle"
Stitch — To mend 
Storm — "Tempest"
Styx — A river from the underworld
Tait — "Cheerful" 
Taylor — "Tailor" 
Trent — "The flooder"
Vale — "Clearing" 
White — A nickname for a dog with white hair
Wizz — Extremely clever
Wren — "Ruler" 
Win — "Blessed" 
Zeal — "With passion" 
Zen — "Religious" 
Famous One-Syllable Dog Names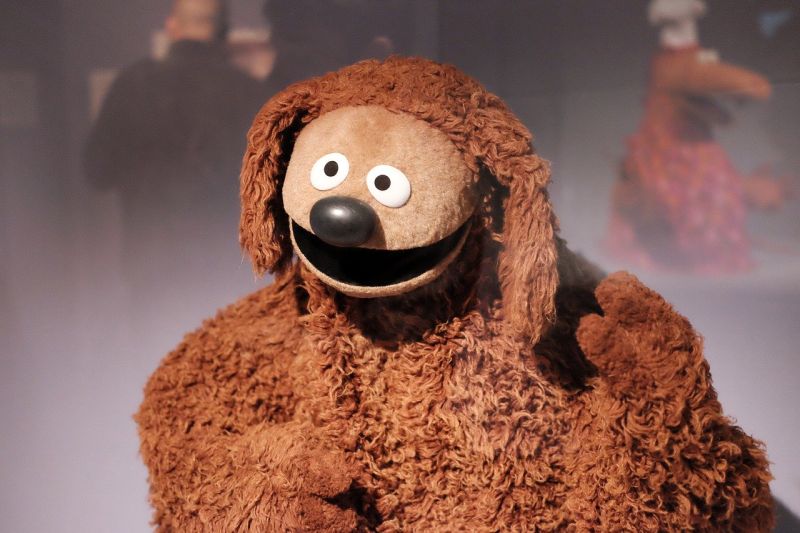 These one-syllable names are all name ideas inspired by famous dogs. One of these darling dogs might make an excellent namesake for your canine companion. 
Beast (The Sandlot): This mastiff greedily hoards any balls he can find in The Sandlot. 
Bolt (Bolt): The namesake German Shepherd from the 2008 movie of the same name and voiced by John Travolta. 
Clue (The Adventures of Mary Kate and Ashley): Clue the basset hound served as a super sleuth in this popular book and TV series. 
Comet (Full House): Sweet Comet served as a loving canine companion on Full House. 
Dino (The Flintstones): Dino acted as the caveman's family dog on this classic cartoon series. 
Dug (Up): True to his breed, Dug the dog served as the happy go lucky golden retriever in Up. 
Fly (Babe): This border collie served as a maternal figure to Babe, taking him in as her son. 
Hooch (Turner and Hooch): Hooch was on the case with Tom Hanks in 1989's Turner and Hooch, serving as a pooch protagonist and super sleuth. 
Max (How The Grinch Stole Christmas): Max is Grinch's loyal mutt who served as his assistant. 
Rowlf (The Muppets): Rowlf is the beloved scruffy mutt from the muppets known for his love of classical music. 
Slink (Toy Story): This sarcastic slinky dog sometimes stole the show on this movie series. 
Skip (My Dog Skip): Sweet Skip helps Willie come out of his shell in his small Mississippi town. 
Tock (Phantom Tollbooth): Milo's closest friend is Tock the watchdog with an iconic clock in his body. 
Zero (The Nightmare Before Christmas): This ghost dog was Jack's canine companion in the loved cross-holiday classic. 
Funny One-Syllable Dog Names
Do you have a canine clown at home? If so, here are some funny one-syllable dog names to take into consideration.
Bark — An ideal name for a vocal doggo
Babe — Perfect for your little piglet
Bach — Short for "bachelor" 
Bam — Great for a clumsy canine
Bean — Nickname for person who is pleasant
Bear — Perfect for a big Newfie (see our other dog names that mean "bear"!)
Bird — Ideal for dogs who can't be confined by gravity
Bits — For a pint-sized pooch
Bling — "Diamond"
Bond — After James Bond
Boots — Ideal for dogs with conspicuous feet
Boop — German name for "bub"
Boom — Got a dog who runs into things?
Boss — Great for dogs who're in charge
Buzz — After Buzz Lightyear 
Charm — Some dogs are just good luck
Chunk — A light-hearted name for chubby dogs
Chic — Ideal for a fashionable four-footer
Chips — For when Spot is a snacker
Dork — Sadly, not all dogs are cool
Fluff — Perfect for a Pomeranian
Freud — After Sigmund Freud, the father of psychoanalysis 
Fox — Got a red-colored pooch? Or one who's clever?
Goose — Only if you have a gander
Hunk — For the most handsome hound
Hoot — Could be great for a wise or fun-loving pooch
Jaws — Duh duh…duh duh…
Kiss — Some dogs are just super affectionate
Moo — Perfect for a harlequin pooch
Moose — Great name for a big dog
Mouse — Ideal for toy breeds
Muse — Does your dog inspire?
Newt —
Squirt — Got a pooch with a pee pee problem?
Snoop — A classic homage (especially for a beagle)
Strut — Great for a dog who knows how beautiful she is
Toast — A great brown dog name
Oaf — Not all dogs are coordinated
Paw — A handsy hound's name
Peach — For your fuzzy four-footer
Pez — After the candy 
Prince — Check out our other regal dog names too!
Puck — For your mischievous mutt
Pie — Probably best as an abbreviation for "Punkin' Pie"
Rat — Too on-the-nose for a rat terrier, but great for other small dogs
Roo — Nickname for "kangaroo" 
Scamp — Another great name for a mischievous doggo
Shark — CHOMP!
Smooch — A kiss 
Smurf — After the famous cartoon characters 
Spud — A potato 
Spy — Sneaky dogs FTW!
Squid — An unusual name for an unusual dog
Toad — Ideal for a bulldog
Queen — Does your dog rule your world?
Wasp — Dog always buzzing around?
Wink — Some dogs are always in on the joke
Woof — Need we say more? 
***
As you can see, there are plenty of short but sweet names to choose from for your new furry friend. Enjoy finding the perfect catchy name for your canine companion!
Do you know any dogs with one of these names? Which name was your favorite? We'd love to hear all about it in the comments!