Yak chew! Now before you say bless you to that sneeze soundalike, there's no need. A yak chew is a very real — and very delicious — treat for your doggo.
As the pet industry moves towards safer chews for dogs, Himalayan yak chews have increasingly joined bully sticks, beef tracheas, and other natural-based dog chew products in stores.
But while other options tend to get all the spotlight, the Himalayan yak chew deserves more attention as a tasty chewing treat.
Read on to learn more about these hidden gems of the chew world and see our picks for the best Himalayan yak chews for dogs, or just check out our quick picks below!
Best Himalayan Yak Chews for Dogs: Quick Picks
Best Himalayan Yak Chew for Large Dogs
Most Socially Conscious Himalayan Yak Chews
Best Lactose-Free Himalayan Yak Chews
What Are Himalayan Yak Chews?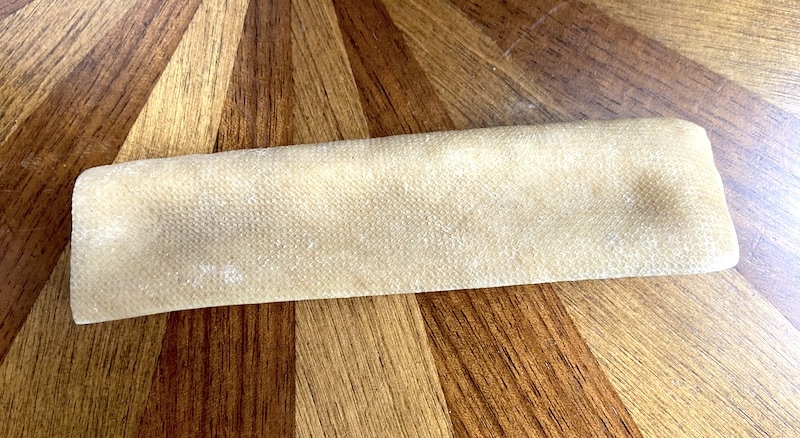 Despite what the name suggests, a Himalayan yak chew isn't made of yak meat like a jerky. Rather, the chew is made using yak's milk, which gives it the alternate name of yak cheese.
For those who don't know what the floof a yak is, it's essentially a big, furry cow-like critter that's super cute.
Well, kinda cute, anyway. YMMV.
Yak cheese originally hails from the Himalayan mountain range, and its still made there using traditional cooking techniques.
Makers boil yak milk, add an acid (often lime juice), and finish the mixture with salt for preservation. Once combined, the cheese is dried or smoked over several weeks, creating a hardened, low-moisture cheese that your canine can chomp on.
Some manufacturers may also add cow milk, while others might add flavoring, such as liquid smoke.
As with all chews, check the ingredient list before purchase to avoid any canine allergens that may be added during production.
always Read Product Labels!
Note that many products listed as "yak cheese," are actually made from regular 'ol cow milk and contain no yak milk at all. That's not necessarily a problem for all dogs or owners, but yak milk and cow milk do have a few nutritional differences (more on this below).
We've tried to focus on those that specifically include yak milk below, but there is one exception (which we note).
The Best Himalayan Yak Chews for Dogs
While Himalayan yak chews are relatively new on the pet industry's radar, there are several great options available today, including:
1. Pawstruck Monster Yak Dog Chews
Best Himalayan Yak Chew for Large Dogs
Pawstruck Monster Yak Dog Chews are large yak cheese chews made using traditional methods in the Himalayas. Odorless and grain-free, they're a hit for sensitive noses and pups alike.
Features:
Extra large design made for medium to giant, heavy-chewing dogs
Undergo quality testing in Nepal and the U.S. to ensure standards are met before shipment
All ingredients are 100 percent natural
Made in Nepal
Options: Can be purchased in increments from 1 to 50.
Pros
If you have a big pooch or an aggressive chewer, this is undeniably the yak chew for him, as it's large and long-lasting
Pricing isn't bad for such a large chew
Low odor and mess are wins for pet parents
Cons
Not a good fit for small pups
Have to make sure your dog doesn't eat too much and risk tummy troubles
Our Personal Experience with Pawstruck Yak Chews
Remy and I got to try Pawstruck's yak chew ourselves. Considering I knew this chew was made of cheese, I was surprised by how hard it is! In it's existing state it doesn't pass the fingernail test, so it's quite hard.
It's nice to know you can microwave them a bit to soften them up if you're concerned about them being too hard.
Remy was very curious about the yak chew initially, but his interest was pretty short lived. After a few licks he decided it wasn't for him.
I guess Remy is more of a carnivore dog! He's a fan of bully sticks and cow ears but not these cheesy chews.
I was pretty surprised with his lack of interest, but all dogs are individuals.
Luckily, yak chews aren't terribly expensive so it's not a big deal to try them out with you pup, even if your dog might be like Remy and not be a fan.
2. EcoKind Pet Treats Gold Yak Dog Chews
EcoKind Pet Treats' Gold Yak Dog Chews are long-lasting, limited-ingredient treats that keep your pooch busy gnawing away. Natural treats that are free of preservatives and additives, these won't stain your furniture or leave any sour smells behind.
Features:
Made with a blend of yak and cow milk
Provided in 6- to 8-inch lengths of cheese
Glucose and lactose-free for stomach-friendly fun
Imported from Nepal
Options: These can be purchased by the stick or in 1, 2, 3, and 5-pound bag options.
Ingredients:
Pros
Hardness and longevity won over most pet parents
Limited ingredients earns high marks for dogs with food sensitivities
Few parents note any stomach upset compared to other yak products
Cons
Some issues were reported with inconsistent sizing and mold (the latter could be due to poor storage)
Some pet parents note these break easier than other yak chews, making monitoring a must to avoid ingestion of smaller chunks and risking choking
3. Native Pet Yak Chews for Dogs
Himalayan Yak Chews With the Most Size and Quantity Options
Native Pet's Yak Chews for Dogs contain only four natural ingredients and no allergy-causing additives. Once nibbled down to a stub, just pop them in the microwave and offer to your pup as a tasty, chewable treat.
Features:
A high-protein snack with low odor
Multiple lengths are available, allowing you to get the perfect treat for your dog's size
Sourced directly from Nepal
Money-back guarantee if they arrive broken or otherwise compromised
Options: Offered in small, medium, large, and extra large in varying counts.
Ingredients List
Yak Milk, Cow Milk, Lime, Salt...,
Just those four ingredients!
Pros
Durability is a win with these yak chews, lasting for several chew sessions, even with heavy-duty chewers
Variety of sizes is ideal for those needing smaller chews for petite pups
Also offered in a durable plastic container instead of a resealable bag, preventing breakage
Cons
May shatter if dropped on hard floors, which can be a safety concern
Consistency in size and hardness is an issue reported by some pet parents
4. Himalayan Cheese Dog Chew
Most Socially Conscious Himalayan Yak Chews
Himalayan Pet Supply's Cheese Dog Chew is a milk-based treat that provides hours of tooth-cleaning fun; plus, for each pound of yak cheese sold, one textbook is donated by Himalayan Pet Supply to a Nepalese library. Made with limited ingredients, it's an all-natural chew that is best for doggos 12 weeks old and above.
Features:
A high-protein, low-fat snack
Best stored in a cool, dry place to preserve shelf life
Free of common allergens, including corn, soy, wheat, and lactose
Made in the USA
Options: Offered in small, medium, large, and extra-large sizes.
Ingredients:
Pros
Quality gets a wag of approval from owners who find them long-lasting
Great packaging wards off mold compared to other brands
Most dogs appear to like the taste
Cons
Easy breakage and shattering were reported by some pet parents
A few pickier pups dislike the smoked flavor
5. Himalayan Pet Supply's yakyChurro Treats
Best Cow's Milk Chew Option
Himalayan Pet Supply's yakyChurro Chews are grain- and lactose-free snacks that are gentle on tummies yet strong enough to withstand chewing. Each bag contains four 6-inch chews for ongoing fun.
Ingredient Info
Note that these treats are not made with yak milk — they're "yak milk flavored" treats made from cow's milk.
Features:
Grooved shape for extra dental cleaning with every chomp
Softer than other yak chews, making them a safer choice if your dog is prone to chewing too hard and risking tooth injury
As we've mentioned, Himalayan Pet Supply works with Nepalese farmers and women, promoting literacy and job skills so they get barks of approval across the board if you're seeking a human-friendly pet supply company.
Ingredients List
Potato Starch, Cheese, Vegetable Glycerin, Potassium Sorbate...,
Just those four ingredients!
Pros
Softer nature ideal for puppies and older dogs
Sizing perfect for dogs big and small
Lactose-free nature great for dogs who don't tolerate lactose
Cons
Softer than traditional yak chews, so they won't last as long
Potato starch and other additives may be an issue for allergy-prone puppers
What's the Difference Between Cow Milk and Yak Milk?
While both yak and cows are bovines, the composition of their milk differs. One study found that:
Yak milk contains more protein, fat, and lactose
Yak milk has more essential amino acids than cow milk, especially batches harvested in warmer months
Yak milk contains more calcium and iron
Phosphorus levels are roughly the same between cow milk and yak milk
Yak milk is obtained during breeding seasons, whereas cow milk is harvested year-round, thereby affecting supply (and pricing!)
As you can see, while there's nothing wrong with cow's milk (in moderation, and assuming your dog isn't lactose intolerant), yak milk is probably preferable in most cases. Although if your dog has trouble with lactose, cow milk tends to be lower in lactose and may be a better pick.
Benefits of Himalayan Yak Chews for Dogs
Himalayan yak chews have a hoof up over chewing competitors for several reasons, including:
They're completely digestible. While some chews, like rawhides, can pose a problem with digestion, yak chews break down in your pup's belly.
They're entirely edible. When a yak chew wears down to a nub, you can soften it in water and give it to your dog to enjoy as a biscuit. Just be sure to supervise so he doesn't try to swallow a piece big enough to cause choking.
They won't cause stains. Stained flooring and paws are left in the dust since these chews don't have any pesky residue or coloring to deal with.
They lack sharp edges. Yak cheese tends to have rounded edges, preventing the cuts and scrapes sometimes caused by other chews.
They're not stinky. Unlike hooves, fish chews, or pig snouts, yak chews aren't very smelly. They aren't exactly potpourri, but they're not as overpowering as many other treats.
They contain minimal ingredients. For dogs with sensitivities, you don't have to worry about a lengthy list of additives to weed through. Most yak chews contain only a single protein source (yak milk) and have little sugar or fat.
They last a long time. Yak chews are relatively hard compared to many other chewing products, giving them a decent lifespan against gnawing puppers and making them a favorite long-lasting dog chew.
Many yak cheese manufacturers are charity-oriented. Some manufacturers have locally based programs to support Nepalese farmers, earning a paw's up in our book.
Are Himalayan Yak Chews Safe for Dogs?
With any new product, you should always question its safety for your doggo. While no chew is 100 percent safe in every instance, yak chews seem pretty safe for most canines.
However, it's important to consider a few potential hazards and issues when looking at Himalayan yak chews, including:
Belly upset — Since it is a milk-based treat and something that's likely new to your pup's diet, some tummy trouble may occur, especially if your dog consumes a lot of the chew at once. Also, many dogs are lactose intolerant, which means these may turn your pooch into a living whoopee cushion.
Hardness — As with all hard chews, there is a risk of tooth breakage. That said, yak chews aren't nearly as hard as bones, antlers, or other super-hard chews.
Choking — All chews come with an inherent choking risk if your dog tries to swallow things he shouldn't.
To reduce these risks, always monitor your dog when he is enjoying a chew. Not only can it prevent him from eating too much at once or potentially choking, but you can also observe how easily he's chewing it.
If the chew appears too hard for your pooch, you can always throw it in the microwave to soften it (yum, warm cheese).
Just make sure you give it enough time to cool off so he won't burn himself. Offering plenty of water is also recommended
With all these factors in mind, the Himalayan yak chew is one of the safest, long-lasting chew options for most dogs.
Yak Cheese Color Varies
Note that yak cheese naturally varies in color. Most blocks are yellowish, but some can be closer to brown or even red.
This is no cause for concern, and your pup won't care one way or the other.
Can You Make Himalayan Yak Chews at Home?
You may find yourself curious about making yak cheese yourself at home, especially if you experience a little sticker shock at the register. We totally get it, and while it is possible, it's definitely not a feat for everyone.
For one, some special equipment may be needed depending on the recipe you follow, like a sieve or a drum. In some instances, you'll need a smoker, too.
Not to mention you'll need to track down yak milk, which isn't always easy to come by.
Some recipes include cow milk, but cow's milk alone won't get hard enough to create traditional yak cheese. If you're interested, a traditional recipe for Durkha Churpi will set you on your yak cheese-making journey. If you try it, let us know how it turns out.
Himalayan Yak Chew Alternatives
If you don't think Himalayan yak chews are the right pick for your dog, there are still loads of awesome edible chew alternatives to choose from for chewers of all styles, giving your doggo plenty of options.
Great alternatives to Himalayan yak chews include:
These edible chews are relatively cheap, too, so don't shy away from buying a few to try out. You can also rotate them, keeping each chew session exciting. Just remember to store them properly.
Best Himalayan Yak Chews for Dogs: FAQ
Have any gnawing questions or concerns left about Himalayan yak chews? Let's sink our teeth into the most commonly mentioned ones.
What is the best yak chew for dogs?
The best yak chew for your dog depends on his size and overall needs. A big breed will need a longer, thicker yak chew that won't fit in his mouth entirely, while a smaller pup needs something more petite he can actually fit his little jaw around.
Some yak cheese chews have lactose while others are lactose-free, suiting sniffers who have lactose intolerance. It's also important to avoid cow milk-inclusive options if your dog is allergic to dairy, so check ingredient lists carefully.
Are Himalayan yak chews good for dogs?
Himalayan yak chews are a great form of mental enrichment, giving your dog a completely edible treat to gnaw away at for an extended period. They have some protein, too, though they're not a replacement for a balanced meal. They can also help clean your dog's teeth as he chews, which is always a plus.
Are yak chews vet recommended?
Maybe. Vets aren't a monolithic group. What one vet loves, another may deem too risky. It also depends on your dog, as one pup might tolerate a yak chew just fine, while your other dog might get an upset tummy or try to swallow the chew whole, putting him at risk.
With any pup product, the best thing is to ask your vet, as they know your four-footer and his conditions and quirks best.
How long should I let my dog chew a Himalayan yak chew?
This varies by the size of your dog, his chew style, and his sensitivity level. Some heavy chewers with sensitive systems can only tolerate a few minutes under close supervision to avoid ingesting too much yak cheese, while gentle gnawers can chew for hours without eating enough to risk stomach upset.
Always err on the side of caution, especially with a new type of edible chew. If you notice your dog making serious progress fast, end the chew session to ensure he doesn't get an upset stomach.
Are Himalayan yak chews safe?
Any chew or toy comes with risks, but Himalayan yak chews are one of the safer options if you continually supervise your pup as he chows down. They're hard to break off into large chunks, reducing choking hazards, and they're easily broken down by your dog's digestive system, avoiding dangerous obstructions.
That said, dogs with sensitive systems may get sick if they ingest too much yak chew at once, leading to gas, vomiting, or diarrhea. Some yak chews can splinter if dropped, too, risking mouth injury.
Can puppies have Himalayan yak chews?
Yes, most puppies can enjoy Himalayan yak chews without issue. The chews are a tad hard for puppy jaws, however, so you may need to soften them a bit in the microwave. As with any chew or toy, carefully supervise your puppy with a yak chew.
Has your dog tried yak cheese before? Have you tried any of the brands we've listed? Let us know in the comments! We'd love to hear about your four-footer's cheese adventures!