If your dog hails from Russia, then you may want to consider giving him a name inspired by his origin!
The world's largest country boasts a long history, a fascinating culture, and a distinct language, offering you many ideas for doggy identification. From brilliant literature to influential figures, there's no shortage of fascinating Russian titles for your pooch!
Male Russian Dog Names
Here are some of our favorite ideas for Russian boy dog names!
Abrasha (Russian form of Abraham)
Akim (Russian form of Joachim)
Alexei (Variant of Alexander)
Alik (Short for of Alexander)
Anastas (Short form of Anastasius)
Anatoly (Means "sunrise")
Andrei (Form of Andrew)
Anton (Form of Antonius)
Artemy (Means "butcher")
Artur (Russian version of Arthur)
Avenir (Form of Abner)
Avgust (Russian form of Augustus)
Boris (Means "fighter")
Borya (A form of Boris)
Daniil (Russian version of Daniel)
Demid (Means "Zeus's counsel")
Dimka (Shortened form of Dmitry)
Dmitry (Means "follower of Demeter")
Dorofey (Means "gift of God")
Dosifey (Meaning "giving God")
Erast (Means "beloved")
Ermolai (Means "people from Hermes")
Evgeny (Russian form of Eugene)
Faddei (Means "heart")
Feliks (Russian form of Felix)
Fima (Means "in good spirits")
Foka (Means "seal")
Foma (Russian form of Thomas)
Fyodor (Means "God's gift")
Gavriil (Russian form of Gabriel)
Georgiy (Form of George)
Gleb (Means "God")
Grigory (Russian form of Gregory)
Igor (Means "warrior")
Illia (Means "my Lord is God")
Iosif (Form of Joseph)
Iriney (Meaning "peaceful")
Isay (Form of Isaiah)
Ivan (Russian version of John)
Kazimir (Means "to destroy")
Kir "Meaning "young")
Kirill (Means "lord")
Konstantin (Means "constant, steadfast")
Kostya (Short form of Konstantin)
Kuzma (Means "order")
Lavr (Means "laurel")
Leontiy (Form of Leontios)
Lev (Means "lion")
Makar (Means "blessed")
Maks (Short form of Maks- names)
Maksim (Means "greatest")
Matfey (Form of Matthew)
Mikhail (Russian form of Michael)
Misha (Nickname for Mikhail)
Mishka (Short for Mikhail)
Nazar (Means "from Nazareth")
Nikita (Means "unconquerable")
Nikolai (Form of Nicholas)
Odissey (Form of Odysseus)
Oleg (Means "blessed")
Onisim (Means "beneficial")
Osip (Form of Joseph)
Pasha (Short form of Pavel)
Pavel (Russian version of Paul)
Petya (Shortened form of Pyotr)
Prokhor (Means "dance leader")
Prokopy (Meaning "advance")
Pyotr (Russian form of Peter)
Radimir (Means "happy world")
Rafail (Form of Raphael)
Renat (Means "born again")
Rodion (Means "hero's song")
Rodya (Short form of Rodion)
Rolan (Means "famous land")
Rurik (Means "famous ruler")
Ruslan (Meaning "lion")
Ruvim (Russian form of Reuben)
Savva (Means "old man")
Sergei (Means "shepherd")
Stanislav (Means "glory")
Stepan (Russian form of Stephen)
Timofey (Russian form of Timothy)
Tyoma (Means "butcher")
Viktor (Means "conqueror")
Vladimir (Means "famous prince")
Yakov (Form of Jacob)
Yarik (Means "fierce and glorious")
Yaroslav (Means "bright fame")
Yasha (Nickname for Yakov)
Yefim (Means "happy")
Yefrem (Russian form of Ephraim)
Yegor (A form of George)
Yelisey (Russian form of Elisha)
Yevgeni (Means "well-born")
Yuli (Short Russian form of Julius)
Yulian (Form of Julian)
Zakhar (Russian form of Zechariah)
Zinovy (Means "life of Zeus")
Female Russian Dog Names
Got a female four-footer with Russian roots? Here are some of our favorite ideas for Russian girl dog names!
Afya: (Meaning "wild horse")
Alina (Means "beautiful")
Aliona (Meaning "light")
Anastasia ("Resurrection")
Anfisa (Meaning "flowering")
Anna (A form of Hannah)
Antonina (Russian feminine form of Anthony)
Anya (Russian version of Anna)
Arina (Means "peace")
Avgusta (Means "to increase")
Avrora (Russian form of Aurora)
Borislava (Means "glory")
Czarina (Means "female ruler")
Darya (Russian version of Darius)
Dasha (Nickname for Da- names)
Dessa (Means "long journey)
Dunya (Means "pleased")
Ekaterina (Meaning "pure")
Elizaveta (Russian version of Elizabeth)
Esfir (Russian variant of Esther)
Evgenia (Means "noble")
Faina (Meaning "light")
Fedosia (Means "God's gift")
Galina (Means "clarity")
Gasha (Meaning "good")
Gavrilla (Feminine version of Gabriel)
Inessa (Russian form of Ines)
Inna (Means "rough stream")
Irina (Russian version of Irene)
Katenka (A form of Katherine)
Katya (Nickname for Ekaterina)
Keesa (Means "kitten")
Kesha (Meaning "innocent")
Klava (A short form of Klavdiya)
Klavdiya (Russian form of Claudia)
Ksenia (Means "hospitable")
Ksyusha (A form of Ksenia)
Lida (Means "people's favor")
Liliya (Meaning "lily")
Lubov (Means "love")
Lyuba (A form of Lubov)
Manya (A variant of Maria)
Marfa (Meaning "teacher")
Maria (Russian version of Mary)
Marina (Meaning "of the sea")
Masha (Short form of Maria)
Mila (Means "dear")
Nadya (Means "hope")
Nasya (Means "immortal)
Nata (Short form of Natalia)
Natalia (Meaning "Christmas")
Natasha (Means "Christmas")
Nesha (Means "pure")
Nika (Shortened form of Veronika)
Nina (Means "grace")
Oksana (Meaning "praise for God")
Olesya (Means "holy")
Olga (A form of Helga)
Orya (Means "peace")
Pasha (Means "small")
Polina (Female version of Paul)
Rada (Means "happy")
Raisa (Means "relaxed")
Rimma (Meaning "from Rome")
Roksana (Form of Roxana)
Ruf (Russian variant of Ruth)
Sasha (Short for Alex- names)
Serafima (Means "fiery one")
Sezja (Means "protector")
Sonya (Meaning "wisdom")
Stasia (Short for Anastasia)
Svetlana (Means "light")
Tanya (Nickname for Tatiana)
Tatiana (Feminine version of Tatius)
Valeriya (Means "strong")
Varya (Means "foreign")
Vera (Means "faith")
Verusha (A form of Vera)
Yana (Russian variant of Jana)
Yelena (Russian form of Helen)
Yeva (Russian form of Eve)
Yulia (Russian version of Julia)
Zasha (Short for Alex- names)
Zhanna (Russian form of Jeanne)
Zhenya (Meaning "well-born")
Zinaida (Means "god-like")
Zoya (Russian form of Zoe)
Famous Russians You Can Name Your Dog After!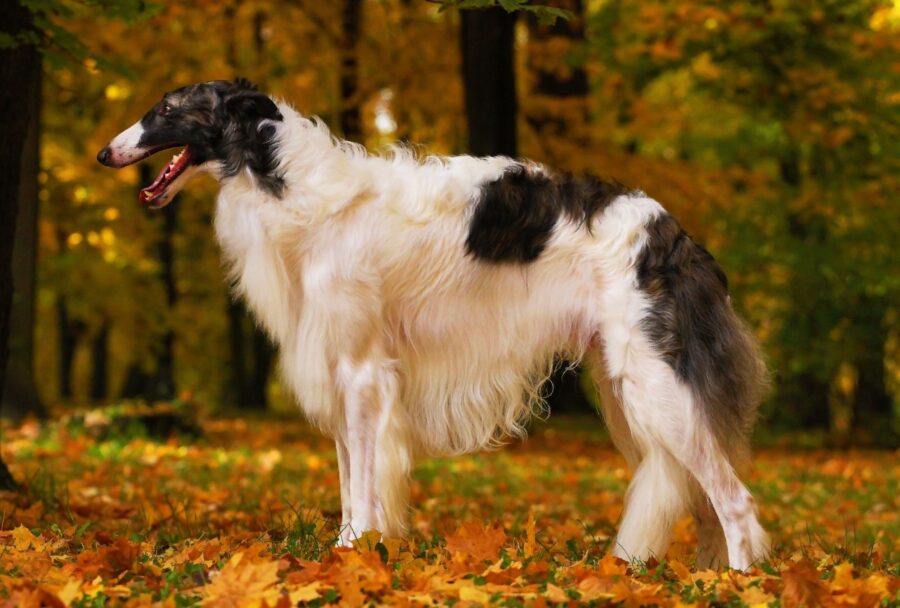 Russia's rich history has been populated by a number of authors, musicians, politicians, and athletes—perhaps one of these distinct characters will make the perfect inspiration for your dog's name:
Adelina Sotnikova: A figure skater from Russia, who upset several of the leading favorites to win the Olympic Gold Medal on her home ice during the 2014 Winter Olympic Games.
Alexander Ostrovsky: A famous and gifted playwright from the 1800s who thrived during the Realistic Period.
Anton Chekov: A famous and enduring playwright from 19th century Russia. His most notable works include timeless classics such as The Seagull, Three Sisters, and Uncle Vanya.
Catherine the Great: One of Russia's most famed rulers, Catherine the Great was pivotal in the country's history. Her reign as Empress spanned more than three decades in the 1700s, and she is credited with adding many territories to Russia, as well as being a major proponent for Russian culture.
Dima Bilan: Winner of the 2008 Eurovision Song Contest. Dima won with the song "Believe."
Grigory Rasputin: A now-legendary figure from 19th and 20th century Russia, he was thought to have mystical powers and held a heavy influence over the ruling family.
Igor Stravinsky: A famous Russian composer, born in the late 19th century. His famous works include "The Firebird" and "The Rite of Spring".
Leo Tolstoy: One of history's greatest writers. Born in the early 19th century, his most notable works include Anna Karenina and War and Peace.
Maxim Gorky: Famed Russian writer and Nobel Prize nominee.
Mikhail Kalashnikov: The small arms designer and general behind the Kalashnikov rifles, including the AK-47. The weapons remain one of the most well-known brands worldwide.
Nyusha: A contemporary singer and songwriter who has had several number-one hits in her native Russia.
Pyotr Tchaikovsky: One of Russia's and the world's most celebrated composers. His most famed works include The Nutcracker, Swan Lake, and 1812 Overture.
Roman Klein: A prolific architect of the late 1800s and early 1900s. He's the mastermind behind Moscow's Pushkin Museum.
Valentina Tereshkova: The first and youngest woman in outer space. As of 2022, she remains the only woman to ever travel a solo space mission.
Yul Brynner: A Russian-born actor best known for immortalizing the title role in the Broadway musical The King and I on stage and screen, earning both a Tony and an Oscar.
Yuri Gagarin: Became the first person to travel to space in 1961 aboard the Vostok.
Zemfira: A Russian rock singer who has sold more than three million records.
Soviet Space Dog Names
You aren't just limited to famous Russian people — you can also name your pup after one of the Soviet space dogs who helped pave the way for human spaceflight.
Here are a few of the most notable:
Albina
Bars
Belka
Bobik
Chernushka
Damka
Dezik
Dymka
Kometka
Kozyavka
Krasavka
Laika
Lisa
Lisichka
Malyshka
Modnitsa
Mushka
Otvazhnaya
Pchyolka
Pushok
Ryzhik
Shutka
Smelaya
Snezhinka
Strelka
Tsygan
Tsyganka
Ugolyok
Veterok
Zhemchuzhnaya
Zhulka
Zvyozdochka
ZIB
Fair warning: Some of these Soviet Space Program dogs have very sad stories, so read up on them cautiously.
Dog Names Inspired By Russian Characters
Explore characters in Russian film, folklore, and novels for unique Russian dog names you don't hear everyday. Here are some favorites.
Aelita: Character from the 1923 science fiction novel by the same name.
Baba Yaga: A fictional boogeywoman who lives in a hut bearing chicken legs.
Buratino: Wooden boy character from the children's book, The Little Gold Key.
Chernava: Mermaid character from the old epic, Sadko.
Dunno: Character from the children's book series, Dunno.
Kholstomer: Dramatic Russian literary classic telling the tale of a horse.
Kikimora: Old Slavic/Russian folklore sleep demon character.
Kolobok: Title character from the fairytale Kolobok, similar to the Gingerbread Man.
Koschei: Immortal character from Russian folklore tales.
Leshy: Shapeshifting guardian of the forest in Slavic and Russian mythology.
Moryana: A female sea spirit and wind ruler in Slavic and Russian mythology.
Oblomov: A nobleman character from an 1859 classic novel bearing the same name.
Polkan: A half-man, half-horse creature from Russian folklore.
Rusalka: Evil female water being from Russian and Slavic folklore.
Sadko: Merchant character from an old Russian epic poem of the same name.
Vasilisa: Title character from Russian fairytale Vasilisa the Beautiful.
Dog Names Based on Locations Around Russia
The largest country on Earth is home to many jaw-dropping sites with fascinating names:
Altai: A territory along Russia's southern border, marked by a picturesque mountain range.
Amur: A Siberian river, also the name of a type of tiger and leopard.
Baikal: Lake Baikal spans nearly 400 miles and is considered the deepest lake in the world. It is known for its crystal clear water, as well as its abundance of wildlife.
Basil: St. Basil's Cathedral is a popular stop with tourists due to its ornate architecture.
Belukha: Meaning "whitey," this massive mountain stretches over 14,000 feet into the sky!
Brosno: A lake in eastern Russia, known for being the home of the legendary Brosno Dragon.
Caspian: The largest landlocked body of water in the world, separates Russia from the Middle East.
Dzhimara: Located on the border of Russia and Georgia, this mountain is over 15,000 feet tall.
Elbrus: Both Russia's and Europe's tallest mountain, located near Georgia's border with Russia.
Imandra: A large lake located beyond the Arctic Circle in Russia's north.
Kaluga: A medium-sized city that's home to space research.
Kazan: A city of more than 1 million located in western Russia. It is often referred to as Russia's Sporting Capital.
Kirov: A medium-sized Russian city and district, known for Dymkovo Toys.
Kizhi: An island located near the border with Finland, home to a famed museum and church.
Kremlin: Russia's version of the White House—it is situated in the center of Moscow, and is home to the sitting Russian president.
Ladoga: The largest lake found entirely within Europe, located near Saint Petersburg.
Lena: A mighty Siberian river that flows into the Arctic Ocean.
Moscow: Russia's largest city and its capital. It is home to iconic sites such as St. Basil's Cathedral, Red Square, and the Kremlin.
Ob: A major Siberian river that spans 2000 miles.
Onega: Lake Onega is near St. Petersburg in the western region of Russia.
Ruza: A Russian river and city located in the Moscow Oblast.
Sarov: Closed-off city that is home to Russian nuclear research.
Shani: Mt. Shani is a picturesque summit located on the Russian and Georgia border.
Siberia: A Russian region known for its brutal winters and swaths of forest.
Sochi : A coastal city that sits along the Black Sea. It served as the host city for the 2014 Winter Olympics.
Suzdal: A city that's home to stunning architecture, including a blue-topped church.
Tula: An industrial city found south of Moscow, home to an air base.
Udina: A stratovolcano located on the Kamchatka Peninsula.
Ufa: A medium-sized city founded way back in the 1500s.
Vulga: A Russian river that spans over 2000 miles, making it the longest in Europe.
Zhizdra: A Russian river located in the Kaluga Oblast region.
Zima: A Russian river and town located along the Trans-Siberian Railway.
Zverevo: A mining town located in Rostov Oblast.
Dog Names Based Off of Russian Food
Russia's distinct cuisine might just offer the perfect flavor to match your pooch's personality:
Blini: Russia's answer to a crepe—it is typically a similar consistency to a pancake and topped with a variety of ingredients.
Borsht: A traditional Russian soup, often made with beets or other vegetables.
Kasha: Another word for porridge, which is a meal staple in Russia.
Kissel: A well-known Russian dessert—it's a gel-like texture often made from fruits.
Paskha: A traditional Russian cheese dish, often made into a distinct trapezoidal shape.
Pelmeni : A Russian dish similar to tortellini or wontons.
Pirozhki: A pillowy puff pastry filled with meat, cabbage, or potatoes.
Shashlyk: A Russian kebab featuring local meats and vegetables.
Solyanka: A hearty soup made with various meats and vegetables in a sour base.
Sushki: Bagel-shaped, cookie-like sweet that is often enjoyed for dessert.
Syrniki: A simple cottage cheese-based pancake that's popular for breakfast.
Ukha: A rustic fish soup, often made with freshwater fish like pike.
Vodka: The world-renowned alcoholic beverage that is the basis for many cocktails.
Zefir: Basically, Russia's variation of the marshmallow.
Russian Words That Make Great Dog Names
The beautiful Russian language offers unique sounds to highlight your dog's individual traits:
Babushka (Grandma)
Bolshoi (Large)
Burya (Storm)
Bystro (Fast)
Cosmonaut (Astronaut)
Dedushka (Grandpa)
Detka (Baby)
Geroy (Hero)
Khokhloma (Ornate style of wood painting)
Kletska (Dumpling)
Konfety (Candy)
Krasota (Beauty)
Krolik (Rabbit)
Kukla (Doll)
Lapa (Paw)
Lapti (A type of woven bast shoe)
Laska (Weasel)
Lenivyy (Lazy)
Leto (Summer)
Matryoshka (Russian stacking dolls)
Mechta (Dream)
Milaya (Sweet)
Mir (Peace)
Nogi (Feet)
Oblako (Cloud)
Palekh (A form of miniature painting)
Perchatki (Gloves)
Ponchik (Doughnut)
Ptitsa (Bird)
Raketa (Rocket)
Rosomakha (Wolverine)
Ruble (Russian currency)
Sakhar (Sugar)
Shchenok (Puppy)
Shokolad (Chocolate)
Shuba (Type of fur coat)
Sneg (Snow)
Sobaka (Dog)
Sputnik (Satellite)
Syr (Cheese)
Tolstyy (Fat)
Ushanka (Russian fur hat, means "ears")
Valenki (Russian felt boots)
Veter (Wind)
Volk (Wolf)
Yagoda (Berry)
Yozhik (Hedgehog)
Zoloto (Gold)
Russian Dog Breeds
Over the years, Russia has made many contributions to world history — including several stunning breeds of dogs! So, if you own a Russian dog breed, you may want to use one of the names listed above.
Borzoi: With a majestic appearance similar to many other sighthounds, this handsome breed was originally used for hunting across Russia. There's evidence of these handsome hounds being used for this purpose since the 1200s!
Samoyed: Instantly recognizable by a fabulous and fluffy white fur coat, this stunning breed was first a companion to the nomadic tribes of Siberia. They're bred to withstand the frigid temperatures of Russia — home to some of the coldest places on the planet!
Siberian Husky: As the name implies, the husky is a native of the vast land of Siberia. They have served as hunting dogs in the region for thousands of years, and in addition to tasks like pulling sleds, they were undoubtedly man's best friend to their people as well.
***
As you can see, there's no shortage of Russian names for your doggo! But there are surely more out there — let us know what Russian names for dogs we missed. And let us know if you have a Russian breed at home (especially if you've given him a name honoring his country of origin).
Want more dog name ideas? Check out our articles on: