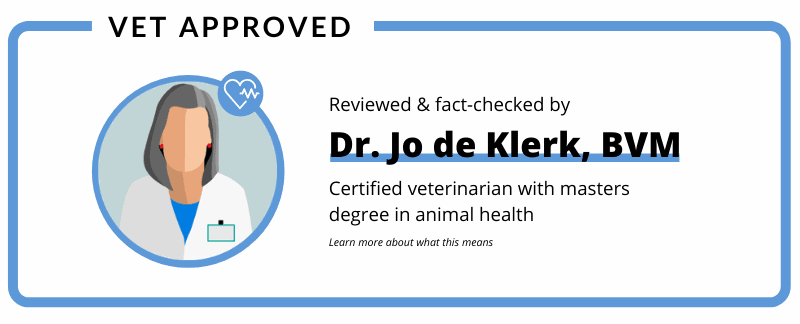 Melatonin is a hormone that plays several important roles in the biology of most mammals, including dogs.
Produced in an organ called the pineal gland, tucked deep inside the brain, melatonin is most famous for regulating sleep cycles, but it also influences several other bodily processes.
But while most dogs produce enough melatonin in their body on their own, some may benefit from supplemental dosages, as the important natural hormone appears to help treat a few different health problems.
Fortunately, there are a number of melatonin supplements available to help provide your dog with some relief. But as always, be sure to check with your vet before administering any to your dog.
Melatonin for Dogs: Key Takeaways
Melatonin is a naturally occurring hormone produced in the brains of most mammals. People most commonly take melatonin to help promote a proper sleep cycle, and some vets recommend this type of use for animals too.
Melatonin also appears to treat a number of other health problems in canines, including clotting disorders, phobias, anxiety, and Alopecia-X.
While melatonin is naturally produced by the mammalian brain, it can cause side effects. Accordingly, it is always important to discuss the use of melatonin with your vet before administering any to your dog.
Conditions that Melatonin May Treat in Canines
While often used solely as a sleep aid in humans, is effective for treating a variety of different conditions in dogs.
While It is not FDA-approved for use in canines, and such use is considered "off-label," many veterinarians recommend using melatonin to treat:
Anxiety – The calming effects of melatonin can help dogs suffering from separation anxiety and similar conditions feel a little calmer. However, it is always important to treat the underlying cause of the anxiety in addition to managing the outward expressions. If you're battling canine anxiety, you may also want to check out our list of the anxiety medicines for dogs (both OTC solutions and vet-prescribed medications).
Phobias – In addition to more generalized forms of anxiety, melatonin can help dogs deal with fears precipitating from fireworks, thunderstorms, and other common triggers.
Sleep Disturbances – Melatonin helps restore natural canine sleep cycles, which is helpful for dogs with sleep issues who sleep at odd times or dogs who have difficulty sleeping at all. It's often used to address insomnia connected to age-related cognitive dysfunction witnessed in older dogs, such as sundowners syndrome, which can disrupt normal canine sleeping patterns.
Alopecia-X – Also known as Black Skin Disease, Alopecia-X is an endocrine disorder that causes dogs to experience hair loss and exhibit a darkening of the underlying skin. There is no standard treatment for this condition, but many vets report having success using melatonin.
Clotting Disorders – Melatonin can reduce the speed at which blood clots, so it is occasionally used to treat dogs suffering from some clotting disorders.
Common Side Effects of Melatonin in Dogs
It's important to note that melatonin does carry a few risks, so you should always consult with a veterinarian before giving it to your dog for any reason. While it is generally thought to be safe, there hasn't been a great deal of research dedicated to studying melatonin's effects on dogs.
Many people believe that because it is already produced by the body, it doesn't matter if they get a little more. But that reasoning is misguided. After all, your body produces adrenaline too, but excessive amounts can easily lead to death.
Some common side effects of dogs' use of melatonin include:
Rapid Heart Rate
Headaches
Itchiness
Vomiting
Fertility Problems
Upset Stomach
Confusion
Extreme drowsiness
Always carefully monitor your dog after administering melatonin to watch for an adverse reaction. If your dog exhibits any of these symptoms, contact your veterinarian immediately and follow any advice given.

If the symptoms are not severe, your vet may simply advise you to decrease the dosage, but in serious cases, it may be necessary to go in for an office visit.
Also, be sure to note that despite being pretty safe, melatonin is not appropriate for all dogs. For example, diabetic dogs should not take melatonin, as it can promote insulin resistance.

So, as always, owners should consult their vet before administering this — or any other drugs or supplements — to a dog. 
How Is Melatonin Administered to Dogs?
There are a few different ways you can provide your dog with supplemental melatonin, and each presents a different mixture of pros and cons.
Be sure to follow your vet's advice when making your choice, if he or she indicated the best form for your dog.
Tablets or Capsules
Most melatonin gracing the shelves of retail establishments and websites like Amazon comes in capsule or tablet form.
This is often the easiest form to administer, and the safest for most owners to use. Some dogs will swallow these caplets voluntarily, but others will only be willing if the pill is put inside a treat or coated with something tasty.
Tablets and capsules come in a variety of strengths, so be sure to select the correct dosage when ordering.
Liquid
A few companies manufacture a liquid form of melatonin, which is usually packaged in a small vial with an eye dropper that is used to dispense the supplement.
Most such products recommend simply applying the recommended amount to your dog's food or a treat for convenience' sake.
Injection
While pills are generally the preferred delivery system for melatonin, some veterinarians may recommend that you give melatonin via injection, particularly if your dog is suffering from Alopecia-x.
Although this can be intimidating to many owners, your veterinarian should be able to teach you how to administer injections safely and relatively easily.
Subcutaneous Implant
Usually used to treat Alopecia-X, subcutaneous implants are tiny medical devices, placed beneath your dog's skin. The implant slowly releases melatonin to keep a steady supply flowing through the bloodstream.
Most implants require replacement every four months or so. Only your veterinarian can insert a subcutaneous implant.
Ingredient Safety
If you plan on giving your dog melatonin, and you have already received your vet's blessing to do so, be sure to scrutinize the ingredient list on oral tablets or liquids first.
You'll need to make sure that the supplement does not contain anything harmful to your dog, such as xylitol. 
Melatonin for Dogs Dosage: How Much to Give a Dog
You should always consult your veterinarian before using melatonin and follow the melatonin dosing regimen he or she provides, but the AKC's website recommends the following dosages:
Dogs less than 10 pounds: 1 milligram
Dogs between 10 and 25 pounds: 1.5 milligrams
Dogs between 25 and 100 pounds: 3 milligrams
Dogs weighing more than 100 pounds: 3 to 6 milligrams
Keep in mind that you'll want to be extremely careful when administering melatonin to small dogs, as small differences in the amount of melatonin given can be much more serious than it would be with larger dogs.
Also remember that melatonin should never be given to a pregnant animal or lactating females, nor puppies under 12 weeks of age.
When Should I Administer Melatonin?
Melatonin takes approximately 30 minutes to kick in, so you'll want to administer it to your dog roughly half-an hour before a thunderstorm or any other stressful event you are looking to help your dog manage.
For sleep assistance, melatonins should be provided in the evening. As a rule of thumb, it's best to provide the melatonin alongside a meal or snack, since ingesting it on an empty stomach may result in intestinal distress.
Melatonin Products For Dogs
There is no shortage of over-the-counter melatonin products on the market, and there are even versions marketed specifically for dogs. But some are clearly better than others.
Our top pick for most owners will be these 3 milligram K9 Choice Melatonin tablets, which are priced affordably and receive positive endorsements from most owners. If you have a really small dog, you'll probably want to opt for the 1 milligram tablets instead.
If your dog doesn't take pills readily, you may want to go with a liquid product. We'd suggest the Ironpower's Super Concentrate.
As always, make sure you're shopping for dog-safe supplements that do not contain artificial sweeteners or any other potentially harmful additives.
Melatonin Alternatives For Dogs
If melatonin doesn't have an effect on your dog, you might also consider trying calming supplement treats or pet CBD oil to help soothe your dog's stressed out nerves!
***
Have you ever given your dog melatonin? What condition were you trying to treat? Did it work out well for her? Do you prefer one brand or manufacturer over others?
Tell us all about it in the comments below.