Is life best for your Chi when sailing the seven seas? Does your beagle raid the treat bin of all its booty?
If so, pirate dog names might be just what the name doctor ordered for your doggo!
We've composed a sea shanty full for the best pirate dog names, including male, female, and unisex options. Let's set sail to the awesome names ahead!
Male Pirate Dog Names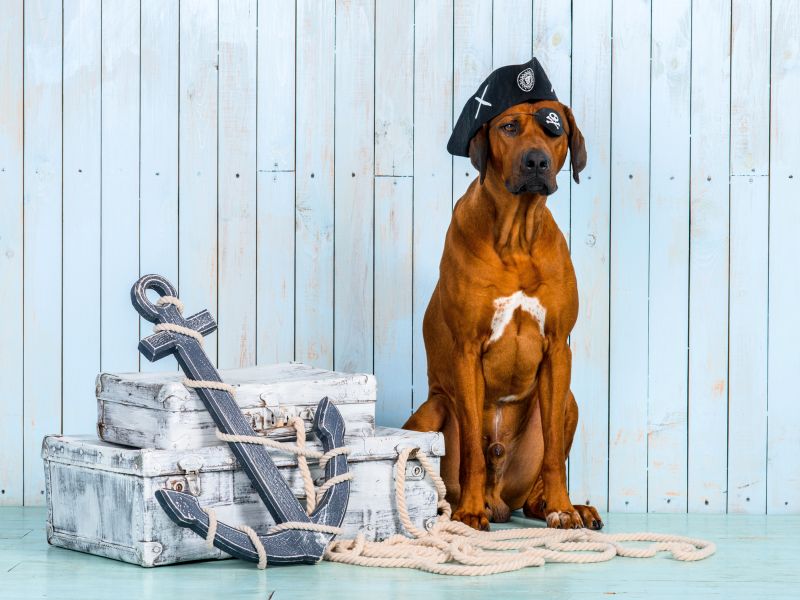 Need a masculine name for your pawed pirate? Try on these boy pirate dog names.
Ace
Bilge (part of ship's hull)
Blackburn
Black Jack
Blade
Brawler
Brigg
Bronn
Buccaneer
Bucko
Cael
Cannon
Cannonball
Cap'n
Captain
Clipper
Coffer (chest that stores valuables)
Cog (pirate ship)
Cornelius
Crabs
Crowley
Cutlass (type of sword)
Cutler
Cutthroat
Dagger
Davos
Deck/Decker
Dredgie (pirate ghost)
Duffle (pirate bag)
Duggan
Dylan
Flibustier (a French pirate)
Gunsmoke
Hook
Hudd
Ike
Jack Hetch (slang for hangman)
Jolly Roger (pirate flag)
Jones
Knave (a servant or dishonorable man)
Lad
Lombard
Man-O-War
Mariner
Orlop (lowest ship deck)
Pike
Privateer (a pirate with papers)
Raider
Ramshackle (in disrepair)
Ruthless
Scupper
Spike
Stubbs
Togs (type of garment)
Truce
Warp (type of ship movement)
Yellow Jack
Female Pirate Dog Names
Lady pirates weren't too common, but that doesn't mean there aren't feminine names to choose from for your sea-loving lass. Maybe you'll meet her perfect match with these pretty pirate names for girl dogs.
Aggie
Ale
Aqua
Armada
Bandanna
Battista
Buffy
Callie
Ciri
Coral
Dominica
Fortuna
Gem
Hally
Haven
Hearty (another word for sailors)
Jarah
Jewel/Jewels
Journey
Kit
Lady
Lass
Lassie
Lily-Liver (scaredy cat)
Maggie
Marina
Mayhem
Merry
Moxie
Nerina (means "sea nymph")
Parley (discussion)
Pasha (means "of the sea")
Pearl
Peg
Peggy
Penny
Pistol
Polly
Rowdy
Roxy
Rue
Sadie
Sandy
Sally
Savvy
Scout
Shelly
Siren
Starboard
Stormy
Tabby
Tally
Trix
Yara
Zoe
Zora
Gender-Neutral Pirate Names for Dogs
Some pirate dog names suit male or female sniffers just fine. Check out these unisex picks with pirate polish.
Ahoy
Avast (to hold fast)
Aye
Aye-Aye
Bandit
Blimey
Bones
Boots
Bounty
Chase
Coast
Crew
Crook
Crossbones
Danger
Doubloon (Spanish coin)
Dread
Dungbie (rear side of ship)
Dutch
Eye Patch
Fortune
Freebooter (synonym for pirate)
Galley
Hatches
Heist
Hurricane
Kelp
Lawless
Legend
Lookout
Loot
Matey
Mizzen (a sail)
Musket
Mutiny
Nipper
Outlaw
Patch/Patches
Peg Leg
Pirate
Quest
Riches
Rig
Rudder
Rum
Sailor
Scar
Scoundrel
Schooner (type of ship)
Scuttle (to sink a ship)
Seadog
Sea Legs
Shanty (a sea song)
Shipsy
Shipwreck
Silver
Skiff (small boat)
Spyglass
Timbers
Treasure
Wicked
X (as in "X" marks the spot)
Yo-Ho-Ho
Funny Pirate Dog Names
Do you prefer a name full of laughs for your pirate pupperino? Check out these funny pirate dog name finds.
Arr
Arrgh
Booty
Carouser (pirate who drinks too much rum)
Chum
Grog (type of pirate booze)
Heave-Ho
Hornswoggle (to cheat)
Landlubber (those who prefer land over sea)
Limey
Plank
Plunder
Poop Deck (P.D. for short)
Scallywag
Seaweed
Shark Bait
Scurvy (common pirate ailment)
Scuttlebutt (bin of water)
Squiffy (tipsy)
Swashbuckler
Yarr
Pirate Dog Names Inspired by Real Pirates
Real pirates are a goldmine of namespiration, even if these boat-dwelling outlaws weren't the most honorable of people. See which real-life pirate name might fit your floof.
Barrow: Thomas Barrow roamed the Caribbean and declared himself the governor of the Bahamian island, New Providence
Bart: Bartholomew "Black Bart" Roberts scoured the seas for ships to raid around the Americas and Africa.
Bellamy: "Black Sam" hailed from England and was one of the wealthiest pirates ever.
Blackbeard: Edward "Blackbeard" Teach lurked around the West Indies and American colonies.
Bonny: Anne Bonny was a fierce female pirate who preyed upon ships in the Caribbean.
Calico Jack: This English pirate sailed around the Bahamas and Cuba.
Captain Kidd: Originally from Scotland, this pirate worked as a privateer capturing English ships.
Ching: Ching Shih was an infamous female Chinese pirate who wandered the South China Sea.
Diabolito: Also known as the Little Devil, he was a 19th-century Cuban pirate known for trading fire with the U.S. Navy.
Drake: Francis Drake was an English privateer (a hired pirate).
Grace: Grace O'Malley was an Irish pirate and one of the most famous of all time.
Havana: This Cuban city was a major port and frequent target of pirates.
Holloway: Henry Holloway was a pirate who lurked off of the East Coast of the U.S. from South Carolina to Maine.
Morgan: Henry Morgan was a 1600s pirate-for-hire.
Nassau: This Bahamian city was a haven for pirates, including Blackbeard.
Red Legs: "Red Legs" Greaves was a Caribbean pirate from Scotland.
Royal: Port Royal, Jamaica was a homebase for many Caribbean pirates.
Tortuga: This island was once home to countless Caribbean pirates.
Pirate Dog Names Inspired by Fictional Pirates
Pirate dog names from fictional sources are some of our favorites, as they're clever, cute, and not associated with a real-life scallywag. Try one of these fanciful finds on your pooch like a costume and see if it matches his pawed pirate persona.
Barbossa: As in Hector Barbossa, Pirates of the Caribbean pirate
Black Pearl: Jack Sparrow's fictional vessel in Pirates of the Caribbean
Cap'n Crunch: Cereal brand pirate
Captain Hook: Villain and nemesis of Peter Pan
Davy Jones: "Locker" at the bottom of the sea home to deceased sailors and pirates
Gibbs: As in Pirates of the Caribbean first mate, Joshamee Gibbs
Jack Sparrow: Star pirate in Pirates of the Caribbean
Long John Silver: Pirate character of the novel Treasure Island
Pugwash: Captain pirate of British comic fame
Redbeard: Pirate star of a Belgian comic series
Vandala: First name of Monster High doll, Vandala Doubloons
Zoro: As in Roronoa Zora, the anime pirate (check out some more anime dog names, if that's your jam!)
Sea-Themed Pirate Names for Dogs
You could also opt for creatures and creations related to the seven seas, as they give a nautical feel without naughty ties. Better yet, pair them with another name for a pirate-like choice, such as Bailey Barnacles. Check out these ocean-themed picks.
Abalone
Anchor
Anemone
Barnacle
Barracuda
Bay
Beluga
Bowhead
Briny
Buoy
Clam
Coral
Dogfish
Great White
Grouper
Hammerhead
Harbor
Kraken
Leatherback
Loggerhead
Mackerel
Mahi Mahi
Mako
Manatee
Manta
Marlin
Moray
Mussel
Narwhal
Ocean
Octopup
Oyster
Port
Prawn
Puffin
Reef
Salty
Scallop
Shrimp
Shuck
Snapper
Squid
Tarpon
Thresher
Tide
Tsunami
Tuna
Urchin
Wahoo
Walrus
Wavy
Pirate Dog Names With Water-Themed Meanings
Looking at meanings is a great way to find subtle pirate dog names. Check out these mutt monikers with water-related meanings.
Arnav: Indian name meaning "ocean"
Calder: Scottish name meaning "rough waters"
Ceto: Greek name meaning "sea monster"
Enkai: Japanese name that means "deep ocean waters"
Hali: Greek name meaning "sea"
Kai: Hawaiian pick meaning "ocean"
Kaiko: Hawaiian name that means "ocean current"
Kairi: Japanese name meaning "ocean village"
Kaito: Japanese pick meaning "ocean"
Kelvin: English name meaning "friend of ships"
Lir: Sea god of Irish mythology
Maj: Scandinavian name meaning "of the sea"
Marvin: Welsh name meaning "sea friend"
Murphy: Irish name meaning "descendent of the sea warrior"
Neron: Spanish name meaning "sea"
Oki: Japanese name meaning "ocean-centered"
Ponce: Spanish name meaning "ocean"
Trent: Latin name meaning "gushing waters"
Triton: God of the sea from Greek mythology
Yoko: Japanese name meaning "ocean child"
Zulimar: Spanish name meaning "blue ocean"
More Mutt Names with Meaning!
Picking a Name for Your Dog
Naming your floof can feel overwhelming, but following a few easy steps can make the process a lot smoother.
When looking for the right name for your rover:
Aim for a name that starts with a consonant. A hard consonant such as B or C at the start of a name are preferred by some trainers, with the thought being that these sounds catch and hold your pup's attention and don't get muddied with other sounds like vowels.
Look for something ending in a vowel. Vowels carry when said aloud, making them top-notch choices at the end of your dog's name. Think Arlo, Charlie, or Aja.
Pay attention to syllables. It's annoying to need to say a long name when calling your pooch – never mind pairing it with commands. Sticking to short names or something that can be shortened to a quick nickname is best.
Think long-term. Maybe Coal suits your puppy now, but is her coat going to grow longer and transform more into a brown or gray? Will Babydog still fit your mature mutt? With names, lifetime longevity is key.
Decide if uniqueness matters. Selecting a rare name can prevent five other dogs from running your way when you call your pooch at the park. While this is cool, a unique name like Banoffee means you likely won't find options like Christmas ornaments bearing your pup's name off the rack. That said, you can always opt for a customized product with your dog's unique moniker.
Brainstorm your favorite hobbies. Your favorite pastimes might be home to your pup's name. For example, hikers might like nature names for dogs like Willow or River, while a science lover may enjoy chemistry dog names.
Tap into your pup's roots. Browsing names from your dog's origins can be enlightening (and fun!) If you have an Ibizan hound, you'd check out Spanish dog names, for instance. We have loads of name lists from popular pup origins, including Japanese Dog Names, Chinese Dog Names, and British Dog Names.
Remember your other pets. If you live in a multi-dog household, try not to pick anything too close to your other pup's name to avoid confusion. Saying the names together can also prevent accidentally forming a tongue-tying combination.
Skip anything offensive. This shouldn't need to be said, but… don't pick a name that's rude or overly negative. You'll need to offer your pet's name to vets, groomers, and more. Don't make it awkward or uncomfortable.
Try it out. Take a name out for a spin before making a commitment. Pair it with commands. Write it down. Try calling your pup. Some names sound great in theory, but don't fit or work well during day-to-day use.
Choose something you love. Your pup's name is something you say and use a lot, so make sure it's a name you genuinely like. Nothing's worse than #nameregret.
Have fun. Naming your dog is an exciting time. If the perfect one doesn't come to you right away, relax. You have plenty of time to find the name that suits your sniffer best. Mix and match. Try something crazy. But most of all, enjoy the process.
Check out how to pick your dog's name to discover more pointers about making a choice on a mutt moniker.
***
Do you have a pupper pirate at home? Does she have one of the pirate-themed dog names on our list or another pirate dog name? Share with us in the comments. We'd love to hear!
Looking for more dog name inspiration? Check out Viking Dog Names and Space Dog Names.