Pit bull pooches are sweet canine companions with plenty of spirit to keep you entertained for a lifetime. Bully breeds may have a bad reputation among some, but the truth about pit bulls is that these furry friends are some of the sweetest, most loving four-footers around!
If you do get the pleasure of owning a pittie, you'll have to find the perfect name for one of these precious puppers. To help, we compiled a list of some of the best pit bull dog names to date.
Here are some suitable name ideas for your pittie! Check 'em out!
Popular Pit Bull Names for Boys
Is your boisterous boy your best buddy? Here are some male dog names for pit bulls other owners have used.
Apollo
Ace
Ace
Andy
Arlo
Artie
Asher
Atari
Atlas
August
Bailey
Banjo
Barry
Baxter
Blue
Bozo
Bruno
Buddy
Buster
Blu
Carl
Casanova
Champ
Chester
Cletus
Clyde
Como
Cooper
Dallas
Denver
Denzel
Deputy
Dexter
Digger
Dude
Duke
Diesel
Earl
East
Edgar
Edison
Edward
Einstein
Eliot
Enzo
Ezra
Fargo
Fidget
Fletcher
Flynn
Floyd
Forest
Frank
Fred
Gabe
Galant
Gandalf
Gary
George
Gino
Gregory
Gumby
Gus
Hansen
Harry
Hector
Henry
Hickory
Hugo
Hulk
Ian
Ibis
Idris
Iggy
Igor
Ike
Ink
Inman
Isaac
Ivan
Jack
Jagger
Jake
Jasper
Jax
Jerry
Jet
Joey
Julius
Jupiter
Kai
Kalypso
Kennedy
King
Kirby
Kobe
Kody
Kona
Kool
Land
Lane
Larry
Lester
Levi
Logan
Lincoln
Loki
Luca
Lucky
Mack
Major
Marcus
Marlo
Marshall
Maverick
Maximus
Mickey
Milo
Murphy
Nash
Nate
Ned
Nelson
Nemo
Neo
Newton
Nico
Noah
North
Oakley
Obi
Oden
Ollie
Orion
Oscar
Oslo
Otis
Ozzie
Paco
Parker
Peyton
Picasso
Pongo
Prince
Quaker
Quartz
Quatro
Quentin
Quest
Quincy
Quinn
Quirk
Reece
Riley
Ringo
Rocket
Rocky
Roman
Rooster
Sabin
Santana
Scout
Shadow
Skippy
Smalls
South
Sparky
Starsky
Steve
Tack
Terry
Tex
Theo
Tiger
Titan
Tony
Trevor
Walter
Willy
Yak
Yale
Yancy
Yang
Yaris
Yearly
Yeller
Yeti
Yodel
Yukon
Zander
Zeal
Ziggy
Popular Pit Bull Names for Girls
Do you have a spirited sweetheart at home? Here are some best female dog names for little lady pit bulls that other owners have selected.
Abbie
Adele
Addie
Alexis
Aspen
Allie
Abby
Ariel
Anna
Betsy
Bambi
Billie
Birdie
Brooklyn
Blossom
Bonnie
Bella
Cassie
Carmella
Casey
Cherry
Cleo
Cora
Canyon
Clara
Darla
Daisy
Demi
Diva
Dora
Dottie
Duchess
Dinah
Edith
Elana
Ella
Elsa
Egypt
Emmy
Elsie
Emiko
Eva
Faye
Florence
Freya
Gidget
Gabby
Georgia
Goldie
Gretel
Gypsy
Gia
Gigi
Haley
Haven
Holly
Honey
Hope
Hazel
Harley
Heaven
Jamie
Jersey
Jessie
Jolene
Josie
Juno
Jasmine
Jada
Jennifer
Kahlua
Kallie
Karma
Kayla
Kelsey
Kenya
Kimono
Koko
Kiki
Kiwi
Kinley
Katie
Lucy
Lizzy
Lola
London
Lady
Laika
Maddie
Maisy
Mary
May
Nora
Nikki
Nina
Nola
Nori
Olivia
Oki
Oprah
Phoebe
Piper
Penny
Poppy
Quizzie
Quigley
Quartney
Qunita
Rachael
Roxie
Rylie
Ritzy
Raina
Rivka
Raisin
Rosemary
Shelby
Sierra
Skye
Suki
Sydney
Seven
Sally
Stella
Tessa
Tori
Tina
Tilly
Tenley
Tamara
Una
Utopia
Violet
Vixen
Vespa
Valor
Wanda
Xena
Zara
Zuri
Zoe
Gender-Neutral Pit Bull Names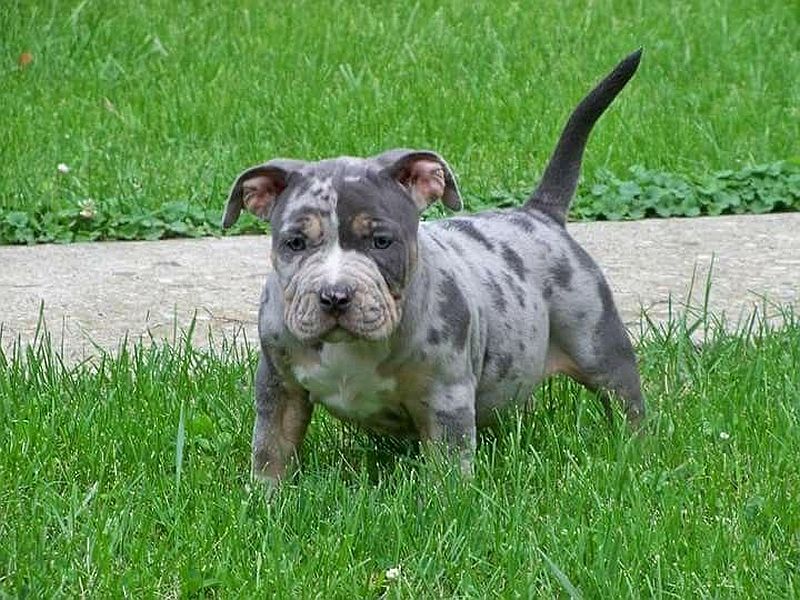 Whether you have a girl or boy best buddy, these gender-neutral names will be perfect for your pittie. Here are some of our favorites that other owners have used for their pibbles!
Angler
Astro
Basil
Battle
Benji
Bream
Bullseye
Carter
Captain
Coach
Charlie
Danny
Dynamo
Echo
Fairy
Flourish
Finn
Freddie
Gamble
Harrison
Hank
Iron
Jonny
Jinx
Karl
Leo
Leonard
Loach
Manny
Mason
Ocean
Pete
Ratchet
Rex
Softie
Robin
River
Sammy
Swash
Toast
Trixie
Turtle
Tang
Tim
Toby
Tyler
Victor
Warlock
Wicket
Will
Zack
Names for Blue-Nose Pit Bulls
A blue nose pit bull has a bluish, somewhat gray nose typically paired with a gray coat. Here are just a few name ideas for these distinguished doggos.
Aqua
Aquamarine
Azure
Bluebell
Bubbles
Celeste
Capri
Cerulean
Cobalt
Cyan
Denim
Dory
Earth
Indigo
Lake
Lapis
Maya
Midnight
Neptune
Pacific
Periwinkle
Slate
Sky
Smurf
Peacock
Powder
Teal
Tiffany
Turquoise
Names for Red-Nose Pit Bulls
Red nose pit bulls are known for their coppery coat and reddish nose, which is usually paired with amber eyes. These handsome hounds deserve a distinguishing name to match up with their dashing good looks.
Amber
Apricot
Autumn
Blush
Brick
Copper
Coral
Ember
Flame
Ginger
Marigold
Merlot
Peach
Pumpkin
Redmond
Rose
Ruby
Russet
Scarlet
Tawny
Teak
Names for Black Pit Bulls
Does your furry friend have a sleek black coat? Consider some of these black dog names for your charcoal-colored canine.
Ash
Arrow
Batman
Blackberry
Blackout
Bolt
Breaker
Carbon
Charcoal
Coal
Damien
Danger
Domino
Doodle
Dusk
Dust
Ebony
Eclipse
Falcon
Flash
Galaxy
Graphite
Godiva
Inky
Jet
Licorice
Luna
Magic
Morticia
Nebula
Nightshade
Nocturne
Onyx
Oreo
Panda
Panther
Pepper
Razor
Renegade
Roadster
Salem
Shady
Smokey
Soot
Stormy
Tank
Thunder
Tundra
Twilight
Vanish
Voodoo
Names for White Pit Bulls
If your pit is as pure as snow, you'll want to check out these white dog names that are particularly poignant for pale-colored pitties.
Alaska
Angel
Arctic
Avalanche
Beluga
Blizzard
Birch
Bones
Brie
Casper
Champagne
Chardonnay
Cloudy
Coconut
Cotton
Crystal
Dove
Everest
Frosty
Flour
Glacier
Ghost
Iceberg
Ice
Igloo
Ivory
Marshmallow
Milky
Nimbus
Nova
Pearl
Polar
Popcorn
Swan
Talc
Q-tip
Vanilla
Winter
Wolf
Names for Brown, Tan, or Fawn Pit Bulls
Does your pit prince or princess have a brown coat? Here are some names you'll want to put on your list.
Bear
Beaver
Brownie
Burgundy
Bronze
Cadbury
Camel
Castle
Cashew
Cedar
Chestnut
Choco
Cocoa
Coffee
Hershey
Mars
Mocha
Muffin
Nestle
Sandy
Taupe
Umber
Walnut
Wheat
Names for Brindle or Multi-Color Pit Bulls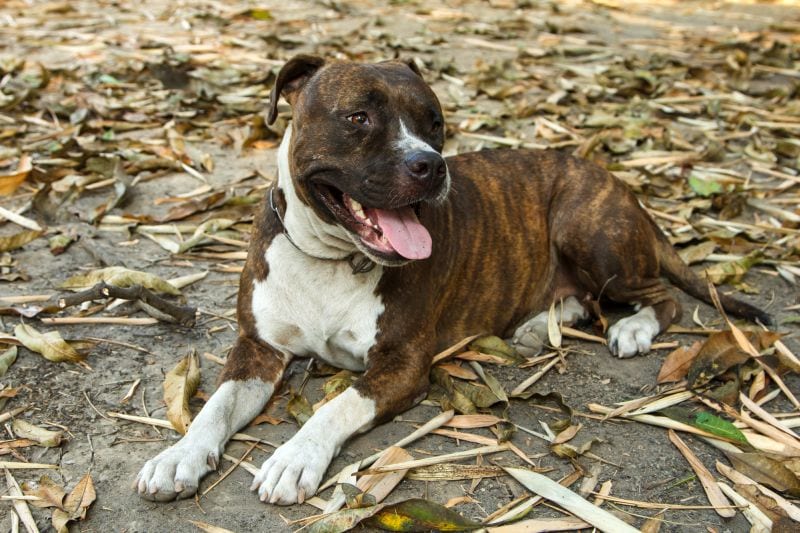 Brindle and multi-color furry friends are one of a kind. Here are some suitable names for brindle dogs and other magnificent multi-color pit bulls.
Blotch
Blur
Camo
Dapple
Dash
Dotty
Fleck
Freckles
Marble
Mosaic
Mottle
Patches
Pip
Rainbow
Smudge
Speckle
Splat
Spatter
Spotty
Sprinkle
Streak
Stripe
Tint
Tutti
Cute Pit Bull Names
We know, there's nothing cuter than your canine companion. So, consider one of these adorable pit bull names to match your mutt's cuteness.
Apple
Bamm-Bamm
Biscuit
Boots
Callie
Caramel
Chloe
Clover
Cricket
Dixie
Dolce
Ellie
Eddie
Frodo
Flower
Frankie
Lily / Lillie
Lottie
Lulu
Maggie
Marley
Molly
Nala
Nessie
Otto
Pepe
Pippin
Pancakes
Pansy
Peaches
Queenie
Rhubarb
Rosie
Waffles
Winston
Zuzu
Tough Pit Bull Names
If your furry friend is one tough cookie, he'll need a name to capture his strong demeanor. Be sure to consider these tough dog names for your furry friend.
Ace
Bullet
Chance
Chase
Crow
Dollar
Dragon
Tanner
Thatcher
Twirl
Saber
Snake
Switch
Vandal
Funny Pit Bull Names
Is your canine companion a total goofball? Here are some funny pit bull dog names to capture your sweetheart's silly spirit.
Archie
Baloo
Barney
Barkley
Beans
Betty
Bernadette
Bob
Fergus
Kevin
Lloyd
Matilda
Nacho
Noodles
Pam
Rufus
Scooter
Slinky
Squishy
Waldo
Woofer
Famous Pit Bull Names
There are plenty of pit bulls throughout history that have made names for themselves through their vibrant personalities. Here are just a few of those exceptional dogs which might make the perfect namesake for your pupper.
Boy: Boy makes the perfect gentle and loyal canine companion throughout the John Wick series. This sweet blue nose found an onscreen home with the help of Keanu Reeves.
Bud: Bud the pit bull was a lucky pooch who got to accompany his owner Dr. Horatio Nelson Jackson on the first car ride across the United States in 1903. This pittie had his own pair of eye goggles which are now in the Smithsonian.
Champion: Champion is the adorable furry friend on NBC's Parks and Recreation that is famous for having only 3 legs.
Grunt: In Flashdance, Grunt served as the aspiring dancer's best buddy. The all-brown pitbull was happy to live with the protagonist, even whilst living in a converted warehouse.
Kaiser: The accomplished Helen Keller was a huge animal lover and had more than one bully breed buddy, including Kaiser.
Petey: Petey from Little Rascals was known for the ring marking around his eye. This sweet pooch kept the kid's company throughout the famous film.
Stubby: This sergeant pittie served in the United States Army. The unlikely hero was known for capturing an enemy spy.
Weela: This heroic furry friend saved her family's little boy from a potentially lethal rattlesnake bite and led over 15 people to safety during a treacherous flood. It's no surprise that this heroic hound makes an amazing namesake for many furry friends.
***
Owning a bully breed or pit mix is one of the most rewarding experiences a pet owner can have. These spirited sweethearts are sure to leave a pawprint on your heart. Hopefully, this list makes it easier for you to find a fitting name for your furry friend.
Do you have a bully breed at home? Which name was your favorite? We'd love to hear all about it in the comments below!