Whether you're looking to honor your hound's heritage as the owner of an African dog breed or seeking something with a savanna spring to it, African dog names are loaded with pup-pleasing possibilities.

From the well-known to the rare, these African monikers give your mutt a memorable moniker that's as special as he is.
Let's go on a namespiration journey and check out some amazing African dog names together below.
Male African Dog Names
If your handsome four-footer needs a name as mighty and masculine as he is, look no further than these epic male monikers:
Ajamu — "He who fights for what he wants"
Ajani — "He who wins the struggle"
Amari — "Strong"
Ayele — "Powerful"
Azibo — "Earth"
Bahari –– "Sea"
Dakari –– "Happiness"
Davu –– "The beginning"
Deka — "Pleasing"
Dembe — "Miracle"
Desta — "Joy"
Duka — "All"
Dumi — "Inspirer"
Jabari — "The brave one"
Jafaru — "Stream"
Kato — "Second of twins"
Kendi — "The loved one"
Kiano — "Tools of the wizard"
Kiho — "Fog"
Kijani — "Warrior"
Kirabo — "Gift of God"
Kofi –– "Born on a Friday"
Kwame — "Born on a Saturday"
Kwasi — "Born on Sunday"
Lencho — "Lion"
Mahalo — "Surprise"
Nalo — "Lovable"
Nuru — "Light"
Oba — "King"
Omari — "Speaker"
Oringo — "He who likes the hunt"
Pharaoh — Title for ancient Egyptian rulers
Roho — "Soul"
Sanyu — "Joy"
Sarki — "Chief"
Thimba — "Lion hunter"
Tumo –– "Fame"
Tut — Short for Tutankhamun, as in the pharaoh
Uba — "Father"
Yaro — "Son"
Female African Dog Names
For those seeking a name with a feminine flair, check out these African princesses:
Abiba — "Beloved one"
Adola — "The crown brings honor"
Akia — "First born"
Amani — "Peace"
Anana — "Fourth born"
Armani — "From the house of Armand"
Asabi — "One of select birth"
Ayanna — "Beautiful flower"
Banji — "Second born of twins"
Cleopatra — Ancient Egyptian queen
Dembe — "Peace"
Faizah — "Victorious"
Falala — "Born into abundance"
Gimbya — "Princess"
Hidi — "Root"
Jahzara — "Princess"
Jamala — "Friendly"
Johari — "Jewel"
Juji — "Heap of love"
Kanoni — "Little bird"
Karasi — "Life and wisdom"
Kemi — "God takes care of me"
Kijana — "Youth"
Kumani — "Destiny"
Loma — "Peaceful"
Mansa — "Conqueror"
Mashaka — "Trouble"
Neema — "Born into prosperity"
Nia — "Lustrous"
Oya — A goddess in Yoruba mythology
Rahma — "Compassion"
Sade — "Honor confers a crown"
Sika — "Money"
Taraji — "Hope"
Thandiwe — "Beloved"
Themba — "Trust, hope, and faith"
Umi — "Servant"
Xola — "Stay in peace"
Yihana — "Congratulations"
Zuri — "Beautiful"
Location-Inspired African Dog Names
To capture a taste of the beautiful African landscape, you can turn to place names, including:
Cairo
Cameroon
Changu
Chari
Congo
Dakar
Diani
Egypt
Ghana
Giza
Kariba
Karoo
Kenya
Kivu
Kruger
Lagos
Libya
Lusaka
Luxor
Maiko
Malawi
Mali
Marrakesh
Morocco
Nairobi
Nile
Safari
Sahara
Savana
Serengeti
Sphinx
Tana
Tanzania
Thebes
Timbuktu
Tripoli
Volta
Zaire
Zambezi
Zambia
Nature-Themed African Dog Names
The African continent is home to some of the world's most beautiful living things, including many that make memorable names, like:
Acacia — A tree that's a landscape staple across the savanna.
Aye-aye — A big-eyed lemur with a curious appearance.
Baobab — A massive tree with a playful-sounding name.
Bongo — An antlered mammal whose striped appearance turns heads.
Cheetah — A super name for a speed racer canine.
Civet — A small, spotted animal with short legs and a long body.
Croc — As in crocodile, this fits a chomp-happy puppy.
Hippo — An ideal pick for a low-rider, like a basset hound or dachshund.
Honey Badger — A dream moniker for a scrappy doggo.
Impala — This elegant antelope doubles as a car name.
Jackal — For a twist on Jack, use this canid moniker.
Kudu — A majestic mammal with a set of antlers like no other.
Mamba — A few species of fast-moving snakes.
Marula — A fruit-bearing tree.
Molala — A large palm tree.
Nyala — A spiral-horned antelope whose name is singsong in nature.
Okapi — Also known as the forest giraffe, this odd-looking animal is the perfect namesake for a mystery mutt.
Rhino — Suitable for a bulldog or other wrecking ball breed.
Topi — Known for its beautiful red coat, this antelope's name is playful.
Zebra — An alternative to Oreo, it's well-suited for a black and white doggo.
African Dog Names from Fictional Famous Figures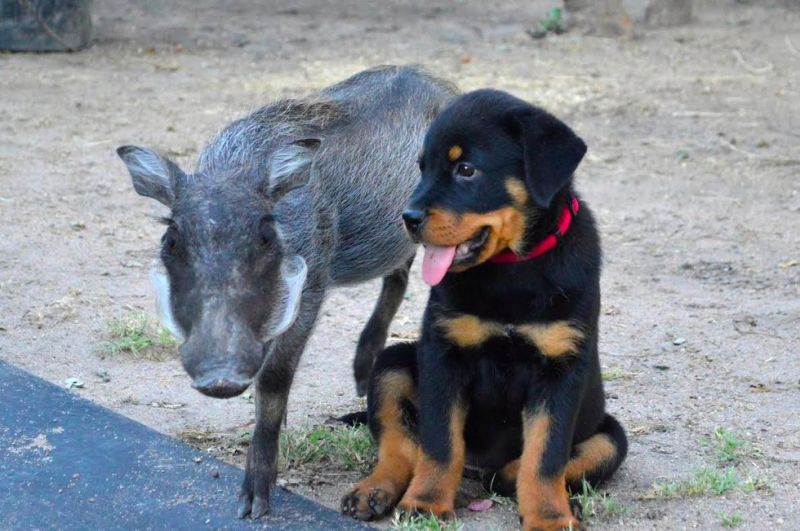 The big screen has brought us plenty of awesome African dog names, like:
Akeem — The crown princess in Coming to America.
Jaffe — The king in Coming to America.
Khumba — The half-striped zebra in Khumba.
Nakia — T'Challa's love interest in Black Panther.
Nakku — The loving mother in Queen of Katwe.
Nala — Simba's girlfriend in The Lion King.
Okoye — The female leader of the armed forces in Black Panther.
Pumba — The portly warthog in The Lion King.
Rafiki — The whacky but wise baboon in The Lion King.
Sarabi — Simba's mother in The Lion King.
Seko — A zebra leader in Khumba.
Shuri — T'Challa's sister in Black Panther.
Simba — The curious cub and future king in The Lion King.
T'Challa — The leader character in Black Panther.
W'Kabi — T'Challa's best friend in Black Panther.
Zazu — The nosy but well-meaning bird in The Lion King.
If you love Disney movies like The Lion King, make sure to check out our article on the best Disney dog names!
Dog Names Inspired By African Cuisine
Food names are common among pooches, and African cuisine offers up some adorable options to choose from, including:
Amala
Asida
Baba Ghanoush
Brik
Chachupa
Couscous
Eba
Egusi
Fufu
Harira
Hawawshi
Injera
Kenkey
Kitcha
Kitfo
Koki
Maafe
Suya
Tahini
Tajine
Descriptive African Dog Names
Some names have a meaning that perfectly describes your doggo, such as:
Barack — Meaning "lightning," he works well on your speed demon doggo.
Chiku — For a mouthy mutt, check out this "talkative" name.
Dada –Meaning "curly haired," this name is a natural fit on a poodle or Bichon.
Kairu — Ideal for a Schipperke or Newfoundland, this name means "black one."
Kamau — If your four-footer is sneaky, check out his "quiet warrior" meaning.
Kazi — Translating to "work," this is the perfect name for your busy four-footer.
Mandla — Meaning "strength," this name is great for a tough pupper.
Sadiki — Meaning "loyal," this name perfectly suits a people-pleasing canine. Also make sure to check out our collection of dog names that mean "loyal" if you like this one!
Safiya –– Meaning "friend," this name works well for your best fur buddy. Love this name? See our list of dog names that mean "friend."
Sahel — This name, meaning "leader," is perfect for pups who rule the pack.
Sekou — A brainiac barker will be perfect for this name meaning "wise."
Teshi — If your pooch's tail is always going a mile a minute, you'll love this name meaning "cheerful."
Zareb — This name, meaning "guardian," is perfect for dogs who guard against bushy-tailed yard invaders. If you like this name also check out our collection of dog names that mean "protector."
Zuberi — Your muscled mastiff perfectly fits this name, meaning "strong."
Zuna –– Meaning "to be sweet," this is the perfect name for a snugglebug of a doggo.
***
Does your pooch have an African name? Share it with us in the comments!