Whether you're looking to honor your hound's heritage as the owner of an African dog breed or seeking something with a savanna spring to it, African dog names are loaded with pup-pleasing possibilities.

From the well-known to the rare, these African dog names give your mutt a memorable moniker that's as special as he is.
Let's go on a namespiration journey and check out some amazing African dog names together below.
Key note
We're using "African dog names" in a broad sense in this post, but it's important to note that Africa is an entire continent with dozens of countries and thousands of languages spoken within its borders.
Many of the names listed below share complex origins between neighboring countries and people, but where possible, we've tried to point out their origin (such as Swahili, Xhosa, etc.).
Most Popular African Dog Names
African dog names have strong meanings and a rich history that help them stand apart from the pack. Check out these popular names from the African continent that you might hear at the dog park.
Agu: Male name from West Africa meaning "Leopard"
Akanji: Name of Yoruba origin that means "One whose touch gives life"
Akua: Name from West Africa meaning "Born on Wednesday"
Alora: Bantu name meaning "My dream"
Anathi: Xhosa origin name meaning "With us"
Atum: Egyptian name meaning "Completion"
Ayo: Name of Swahili origin meaning "Joy"
Ayzize: Name from Southern Africa meaning "Let it come"
Badru: Male name of Swahili origin meaning "Born on a full moon"
Chetachi: Name of Igbo origin meaning "Remember God"
Chidi: Name from West Africa meaning "God's existence"
Dalitso: Malawian origin name meaning "Blessing"
Djimon: Male name of Yoruba origin meaning "Powerful blood"
Itai: Name from Southern Africa meaning "To do"
Jamba: Name of Swahili origin meaning "Celebrate"
Ndidi: Name of Igbo origin meaning "Patience"
Obi: Igbo origin name meaning "Heart"
Ptah: Egyptian name meaning "Creator"
Seti: Egyptian form of Seth meaning "Appointed"
Shani: "Marvel" of a name from Swahili origin
Ssanyu: Name from Ghana meaning "Joy"
Tambo: Name of Swahili origin meaning "Vigorous"
Temi: Unisex name of Yoruba origin meaning "Mine"
Thandiwe: Name of Xhosa origin meaning "Beloved"
Tiombe: Feminine name from West Africa that means "Shy"
Upendo: Swahili origin name meaning "Love"
Uuka: Xhosa origin name meaning "Rise up"
Xola: Name of Xhosa origin meaning "Stay in peace"
Xolani: Zulu and Xhosa origin name meaning "Please forgive/Peace"
Yaro: Name hailing from West Africa meaning "Son"
Yohance: Name from West Africa meaning "God's gift"
Zawadi: Swahili origin name meaning "Gift"
Zikomo: Name of Ngoni origin meaning "Thank you"
Zuri: "Beautiful" name of Swahili origin
Male African Dog Names
If your handsome four-footer needs a name as mighty and masculine as he is, look no further than these epic male monikers:
Adjo: "Righteous"
Admassu: "Horizon"
Ajamu: "He who fights for what he wants"
Ajani: "He who wins the struggle"
Aka-chi: "Hand of God"
Amadi: "Good man"
Asante: "Thank you"
Ayele: "Powerful"
Azibo: "Earth"
Bahari: "Sea"
Barke: "Blessings"
Braima: "Father of nations"
Chijioke: Name of Igbo origin meaning "God gives gifts"
Chikezie: "Well-made"
Chinelo: "Thought of God"
Dakari: "Happiness"
Davu: "The beginning"
Deka:"Pleasing"
Dembe: "Peace"
Duka: "All"
Dumi: "Inspirer"
Edem: "Delivered"
Ejike: Igbo name meaning "He who has strength"
Ikenna: Name of Igbo origin meaning "Power of the father"
Ilori: "Special treasure"
Iniko: "Born in troubled times"
Issay: "Hairy"
Jabari: "The brave one"
Jafaru: "Stream"
Jengo: "Building"
Juma: Name of Swahili origin meaning "Friday"
Kato: "Second of twins"
Kiano: "Tools of the wizard"
Kijani: "Warrior"
Kofi: "Born on a Friday"
Kwame: "Born on a Saturday"
Kwasi: "Born on Sunday"
Lencho: "Lion"
Mahalo: "Surprise"
Nalo: "Lovable"
Nuru: "Light"
Oba: "King"
Okoro: Igbo origin name meaning "Boy"
Oringo: "He who likes the hunt"
Pharaoh: Title for ancient Egyptian rulers
Roho: "Soul"
Sanyu: "Joy"
Sarki: Name of Hausa origin meaning "Chief"
Segun: Yoruba origin name meaning "Conquer"
Thimba: "Lion hunter"
Tirfe: "Spared"
Tumo: "Fame"
Tunde: Name of Yoruba origin meaning "Return"
Tut: Short for Tutankhamun, as in the pharaoh
Uba: "Father"
Uhuru: Swahili origin name meaning "Freedom"
Urowo: "Tall"
Uzo: "Good road"
Wasaki: "Enemy"
Zesiro: "Firstborn twin"
Zoob: "Strong"
Female African Dog Names
For those seeking female names with feminine flair, check out these African princesses:
Abeni: "We prayed and we received"
Abiba: "The beloved one"
Adjoa: "Born on Monday"
Adola: "The crown brings honor"
Afi: "Born on Friday"
Akia: "First born"
Amaka: "Precious"
Amani: "Peace"
Amondi: "Born at dawn"
Anana: "Fourth born"
Asabi: "One of select birth"
Ayanna: "Beautiful flower"
Badu: "Tenth born"
Banji: "Second born of twins"
Chausiku: Swahili origin name meaning "Born at night"
Cheta: "Remember"
Chikondi: Name from South African meaning "Love"
Chima: Name of Igbo origin meaning "God knows"
Chipo: "Gift"
Cleopatra: Ancient Egyptian queen
Delu: Name of Hausa origin meaning "The only girl"
Dembe: "Peace"
Ekene: Igbo origin name meaning "Gratitude"
Ellema: "Milking a cow"
Eshe: Name from West Africa meaning "Life"
Faizah: "Victorious"
Falala: "Born into abundance"
Fanaka: Name of Swahili origin meaning "Prosperous"
Fayola: "Good fortune"
Femi: "Love me"
Fola: "Honor"
Folami: Name of Yoruba origin meaning "Respect me"
Gimbya: "Princess"
Gzifa: From Ghana, meaning "Peaceful one"
Haracha: "Frog"
Hazina: "Good"
Hidi: "Root"
Hiwot: Name from East Africa meaning "Life"
Ifama: "All is well"
Isoke: "Gift from God"
Isondo: Name of Nguni origin meaning "Wheel"
Iyabo: Yoruba origin name meaning "Mother has returned"
Izefia: "Childless"
Jahzara: "Princess"
Jamala: "Friendly"
Jendayi: "Thankful"
Jira: "Related by blood"
Johari: "Jewel"
Juji: "Heap of love"
Jumoke: Name of Yoruba origin meaning "Loved by all"
Kabibe: "Little lady"
Kande: "Firstborn daughter"
Kanoni: "Little bird"
Karasi: "Life and wisdom"
Kemi: Name of Yoruba origin meaning "God takes care of me"
Keshia: "Favorite"
Kianda: "Mermaid"
Kianga: "Sunshine"
Kijana: "Youth"
Kimani: "Adventurer"
Kioni: "She sees things"
Kissa: "First daughter"
Kumani: Name from West Africa meaning "Destiny"
Lewa: "Beautiful"
Liseli: "Light"
Loma: "Peaceful"
Maisha: "Life"
Mandisa: "Sweet"
Mansa: "Conqueror"
Marjani: "Coral"
Mashaka: "Trouble"
Miyanda: A Zambian surname
Mizan: "Balance"
Monifa: Name of Yoruba origin meaning "I am lucky"
Mwayi: Malawian origin name meaning "Opportunity"
Nacala: "Peace"
Nafuna: "Delivered feet-first"
Nathifa: "Pure"
Neema: "Born into prosperity"
Netsenet: "Freedom"
Nia: "Lustrous"
Nkechi: "God's gift"
Nnenia: "Looks like grandmother"
Noxolo: "Peaceful"
Nsomi: "Well-behaved"
Nyeri: "Unknown"
Nzeru: Name of Malawian origin meaning "Wisdom"
Oya: A goddess in Yoruba mythology
Rahma: "Compassion"
Rehema: Swahili origin name meaning "Mercy"
Sade: "Honor confers a crown"
Safia: "Friend" name of Swahili origin
Sika: "Money"
Subira: Swahili origin moniker meaning "Patience"
Taraji: "Hope"
Themba: "Trust, hope, and faith"
Tiaret: "Lionness"
Umi: "Servant"
Winta: "Desire"
Yassah: "Dance"
Yihana: "Congratulations"
Zendaya: "Give thanks"
Ziraili: "Help of God"
Zufan: "Throne"
Zula: "Brilliant"
Unisex African Dog Names
Some of our favorite African dog names are gender-neutral. See which of these cool picks might suit your sniffer.
Abibola: Name of Yoruba origin meaning "Born wealthy"
Akande: "First born"
Bahati: Swahili origin name meaning "Good fortune"
Bem: "Peace"
Dayo: Name from West Africa meaning "Joy arrives"
Desta: "Joy"
Farai: Name of Bantu origin meaning "Rejoice"
Foluke: "In God's hands"
Ife: Name of Yoruba origin meaning "Love"
Itoro: Name from West Africa meaning "Praise"
Kei: "Sandy"
Kendi: "The loved one"
Kiho: "Fog"
Kirabo: "Gift of God"
Kitoko: "Beautiful"
Loba: "To talk"
Makula: "Pearl"
Mhina: "Delightful"
Milandu: "A case to answer"
Mosi: "First born" name of Swahili origin
Mukundi: "Victor"
Mwenje: "Brilliant light"
Olabisi: Name of Yoruba origin meaning "Increased honor"
Oni: Yoruba origin name meaning "Today"
Rufaro: "Happiness"
Satima: "Young bull"
Shuvai: "Wish"
Taiwo: "Taste of the world" name from Yoruba origin
Tatu: Swahili origin name meaning "Third child"
Thoko: Name meaning "Thank" of Malawian origin
Tumaini: Meaning "Wish," of Swahili origin
Tuyeni: "Let go"
Zuva: "Day"
African Countries for Namespiration
Why not name your pooch after one of Africa's many stunning countries? One of these amazing nation names might fit your canine.
Algeria: A country in North Africa
Cameroon: A country in west-central Africa
Chad: A landlocked nation that straddles North Africa and Central Africa
Congo: A country in Central Africa
Egypt: The country linking Africa with the Middle East, located in North Africa
Ghana: A country in West Africa
Kenya: A country in East Africa
Libya: A country in North Africa
Malawi: A country in southeastern Africa
Mali: A country in West Africa
Morocco: A country in North Africa
Mozambique: A county in East Africa
Tanzania: A country in East Africa
Togo: A country in West Africa
Tunisia: A small county in North Africa between Algeria and Libya
Zaire: Former name of the Democratic Republic of the Congo
Zambia: A country in southern Africa
City-Inspired African Dog Names
Naming your four-footer after an African city is a clever way to show your love of the land. They're also relatively rare at the dog park, making them a unique name lover's dream!
Accra: Capital of Ghana on the Atlantic coast of West Africa
Benoni: A town located in South Africa
Cairo: The capital of Egypt and one of the largest cities in Africa
Dakar: The West African capital of Senegal
Durban: A coastal city in South Africa
Giza: Home to Egypt's famous pyramids
"Jozi": A nickname you could give your dog based on the city of Johannesburg, South Africa's biggest city. Johannesburg is also referred to by residents as "Jozi" or "Joburg"
Lagos: The largest city in Nigeria
Lusaka: The capital of Zambia
Luxor: A city on the bank of the Nile River in southern Egypt
Marrakesh: A city in western Morocco
Nairobi: The capital city of Kenya
Pretoria: A city in South Africa
Soweto: A Johannesburg township in South Africa, bordering the city's mining belt
Thebes: An ancient Egyptian city located along the Nile
Timbuktu: A city in Mali, Africa
Tripoli: The capital city of Libya
Landscape-Inspired African Dog Names
Turn to these names to conjure up images of the African continent's beauty, from the grassy plains to the churning seas off of South Africa's famous cape.
Atlas: As in the Atlas Mountains found in North Africa
Chari: A long river in Central Africa
Diani: A popular Kenyan beach
Kariba: The world's largest man-made lake, found between Zambia and Zimbabwe
Karisimbi: As in Mount Karisimbi, the Rwandan stratovolcano
Karoo: A semi-desert natural region of South Africa
Kivu: Lake Kivu is one of Africa's great lakes
Lindi: A Tanzanian bay in the Indian Ocean
Meru: As in Mount Meru, the stratovolcano located in Tanzania
Nile: A famous north-flowing river in Africa
Sahara: The Sahara Desert is a massive African desert
Savana: A type of African ecosystem
Sphinx: Famous Egyptian monument
Victoria: As in Victoria Falls, the world-famous waterfall
Volta: A major river in Western Africa
Zambezi: The fourth-longest river in Africa, home of Victoria Falls
National Park-Themed African Dog Names
The African continent is home to dozens of awe-inspiring national parks, housing wildlife you can't see anywhere else on earth. Check out these African dog names inspired by natural beauty.
Abuko: Abuko Nature Reserve is popular destination in Gambia
Addo: Addo Elephant National Park is found in South Africa
Akanda: Akanda National Park is a coastal reserve located in Gabon
Arusha: Arusha National Park sits in Tanzania
Bia: Bia National Park can be found in Ghana
Boma: Boma National Park is in South Sudan
Bwindi: Bwindi Impenetrable National Park is home to great ape species like the mountain gorilla
Dorob: Dorob National Park covers a swath of Namibian desert
Koba: As in the Niokolo-Koba National Park, alongside the Gambia river
Kruger: Kruger National Park is one of the world's biggest safari destinations
Maiko: Maiko National Park is a popular safari park in the Democratic Republic of the Congo
Matobo: Matobo National Park is home to picturesque grasslands
Mikumi: As in Mikumi National Park
Safari: A type of African tour where visitors can explore national parks and seek out wildlife
Serengeti: As in Serengeti National Park, a safari favorite
Taza: Taza National Park can be found in Algeria
Nature-Themed African Dog Names
The African continent is home to some of the world's most beautiful living things, including many that make memorable names, like:
Acacia: A tree that's a landscape staple across the savanna
Aye-aye: A big-eyed lemur with a curious appearance
Baobab: A massive tree with a playful-sounding name
Bongo: An antlered mammal whose stripes turn heads
Bonobo: A species of great ape
Buffalo: The Cape buffalo is a huge hoofed bovine
Cheetah: A super name for a speed racer canine
Civet: A small, spotted animal with short legs and a long body
Croc: As in crocodile, this fits a chomp-happy puppy
Gorilla: A great ape of massive size and strength
Hippo: An ideal pick for a low-rider, like a basset hound or dachshund
Honey Badger: A dream moniker for a scrappy doggo
Hyena: A spotted carnivore with a ravenous appetite
Impala: This elegant antelope doubles as a car name
Jackal: For a twist on Jack, use this canid name
Kudu: A majestic mammal with a set of antlers like no other
Mamba: A few species of fast-moving snakes
Marula: A fruit-bearing tree
Molala: A large palm tree
Nyala: A spiral-horned antelope whose name is singsong in nature
Okapi: Also known as the forest giraffe, this odd-looking animal is the perfect namesake for a mystery mutt
Oryx: The genus of gemsbok antelope
Rhino: Suitable for a bulldog or other wrecking ball breed
Topi: Known for its beautiful red coat, this antelope's name is playful
Wildebeest: The hodgepodge antelope species with a scraggly mane, stripes, and horns
Zebra: An alternative to Oreo, it's well-suited for a black and white doggo
African Dog Names from Fictional Famous Figures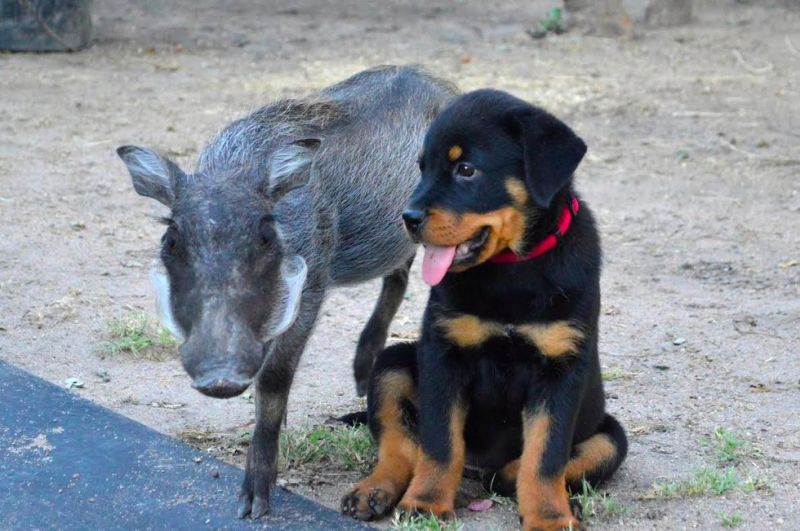 Whether you own a Rhodesian ridgeback or a African street dog, these big-screen African names could work great for any dog:
Akeem: The crown princess in Coming to America.
Beni: Bumbling villain from The Mummy.
Jaffe: The king in Coming to America.
Khumba: The half-striped zebra in Khumba.
Maurice: The wise aye-aye from Madagascar.
Mort: The adorable mouse lemur from Madagascar.
Moto Moto: The hippo from Madagascar.
Nakia: T'Challa's love interest in Black Panther.
Nakku: The loving mother in Queen of Katwe.
Nala: Simba's girlfriend in The Lion King.
Okoye: The female leader of the armed forces in Black Panther.
Pumba: The portly warthog in The Lion King.
Rafiki: The whacky but wise baboon in The Lion King.
Rick: Hero from The Mummy
Sam: The lead from Machine Gun Preacher.
Sarabi: Simba's mother in The Lion King.
Seko: A zebra leader in Khumba.
Shuri: T'Challa's sister in Black Panther.
Simba: The curious cub and future king in The Lion King.
T'Challa: The leader character in Black Panther.
Tsotsi: Title character from Tsotsi.
W'Kabi: T'Challa's best friend in Black Panther.
Zazu: The nosy but well-meaning bird in The Lion King.
If you love Disney movies like The Lion King, make sure to check out our article on the best Disney dog names!
Strong African Names for Dogs
Looking for a strong African name for your tough pooch? Some potential ideas include:
Abrafo: A Ghanaian name meaning "warrior"
Ade: Nigerian word meaning "royal"
Addae: Ghanian word for the morning sun
Adofo: Ghanian word for warrior
Arno: Afrikaans with Germanic roots, meaning "eagle"
Bassel: A North African word meaning "brave"
Hakim: An African word meaning "ruler"
Limbani: A name from Southern Africa meaning "be strong"
Mandla: Means "strength"
Moti: Name from East African meaning "leader"
Mwenye: Means "owner" or "boss"
Tafari: Meaning "he who inspires awe"
Tau: A South African word for lion
Zuberi: Name of Swahili origin meaning "strong"
Dog Names Inspired By African Cuisine
Food names are common among pooches, and African cuisine offers up some adorable name options with African roots, including:
Amala: A yam dish
Asida: A doughy dish from North Africa
Baba Ghanoush: An eggplant dish
Bazeen: A lamb dish from North Africa
Biltong: A meat jerky from South Africa
Brik: A fried pastry from North Africa
Caakiri: A sweetened grain pudding from North Africa
Calulu: A fish and vegetable stew
Chachupa: A stew from West Africa
Couscous: Type of grain
Dabo: Dabo kolo is a bread snack from North Africa
Duqqa: A type of nutty dip
Eba: A Nigerian dish made of cassava flour
Egusi: A Nigerian soup
Fufu: A soup from West Africa
Harira: A popular soup in North Africa
Hawawshi: A popular Egyptian street food
Hertzoggie: A cookie from South Africa
Injera: Type of flatbread
Isamaza: A popular liqueur in East Africa
Kapana: A grilled meat dish
Kenkey: A maize dish from West Africa
Kisra: Sudanese bread
Kitcha: An Ethiopian flatbread
Kitfo: A minced meat dish
Koki: A wheat flour roti
Maafe: A peanut stew from West Africa
Mitmita: A powerful spice mix from Ethiopia
Mutura: A blood sausage popular in Kenya and Central Africa
Sambusa: A fried treat from East Africa
Seffa: A Moroccan meal of sweetened grain
Shiro: A stew from East Africa
Suya: Type of meat skewer dish
Tahini: A popular condiment
Tajine: A dish from North Africa
Ugali: A cornmeal dish
Descriptive African Dog Names
Some names have a meaning that perfectly describes your doggo, such as:
Barack: Meaning "lightning," he works well on your speed demon doggo.
Chiku: For a mouthy mutt, check out this "talkative" name.
Dada: Meaning "curly haired," this name is a natural fit on a poodle or Bichon.
Kairu: Ideal for a Schipperke or Newfoundland, this name means "black one."
Kamau: If your four-footer is sneaky, check out his "quiet warrior" meaning.
Kazi: Translating to "work," this is the perfect name for your busy four-footer.
Mandla: Meaning "strength," this name is great for a tough pupper.
Sadiki: Meaning "loyal," this name of Swahili origin perfectly suits a people-pleasing canine. Also make sure to check out our collection of dog names that mean "loyal" if you like this one!
Safiya: Meaning "friend," this name works well for your best fur buddy. Love this name? See our list of dog names that mean "friend."
Sahel: This name, meaning "leader," is perfect for pups who rule the pack.
Sekou: A brainiac barker will be perfect for this name meaning "wise."
Teshi: If your pooch's tail is always going a mile a minute, you'll love this name meaning "cheerful."
Zareb: This name, meaning "guardian," is perfect for dogs who guard against bushy-tailed yard invaders. If you like this name also check out our collection of dog names that mean "protector."
Zuberi: Your muscled mastiff perfectly fits this name, meaning "strong."
Zuna: Meaning "to be sweet," this is the perfect name for a snugglebug of a doggo.
African Dog Breeds
The African continent has produced an array of dog breeds, from speedy sighthounds to lumbering mastiffs. Let's meet some of these cool canines together.
Azawakh
This svelte sighthound is from West Africa, where he started thousands of years ago as a hunting dog. Today, you can find him working his magic in lure coursing.
He should never be trusted off-leash, as he'll sprint after any passing squirrel. Training him can be a challenge since he has the infamous sighthound independence. His shining feature (in addition to his athleticism) is his affectionate nature.
Top picks for Azawakh dog names: Axel, Electra, Falcon, Hera, Sonic, Tess, Torpedo
Basenji
This "barkless" breed is from Central Africa, where he got his start as a hunting dog. The basenji is among the most ancient dog breeds, though he remains one of the most primitive.
He's relatively small at 24 pounds, but he can get into insane mischief if bored, making messes that would leave a much-larger husky impressed. He's hardly barkless, either, eliciting sounds from yips to screams to yodeling.
That said, he's a fabulous contender for canine sports, with lure coursing offering the perfect outlet for his high energy. He's also famously catlike, keeping himself clean and disliking water.
Top picks for basenji dog names: Aurora, Bastian, Breezy, Congo, Fancy, Jude, Piccolo
Boerboel
Meaning "farm dog" in Dutch, the mighty boerboel hails from South Africa, where he still serves as a trusted farmhand. He was bred to protect the homestead, where his size and deep, rumbling bark are usually enough to keep trespassers away. He can clock in at 200 pounds, though he isn't as tall as you'd think, coming in at 27 inches at the shoulder.
Boerboels are gentle giants with those they trust, but the breed requires extensive socialization and early obedience to ensure he's well-adjusted before he's too large to handle.
Top picks for Boerboel dog names: Arlo, Bess, Hercules, Scarlett, Tank, Xena, Zeus
Coton de Tulear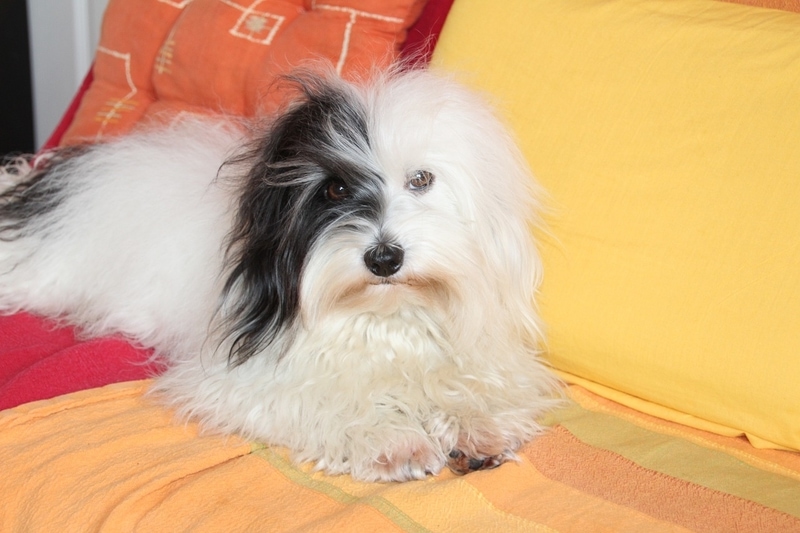 Known as "the Royal Dog of Madagascar," this cute and cuddly canine comes from the island nation located off the coast of East Africa. He was bred as a companion, and he remains a treasured lapdog worldwide.
His clownish antics make him quite the entertainer, while his sweet disposition and somewhat sturdy frame make him a good choice for families with kids. However, his coat can be a dealbreaker for many, as the long, lush mane requires near-daily brushing to prevent tangles. A sanitary trim is also recommended to prevent any backdoor messes.
Top picks for coton de Tulear dog names: Bunny, Cloud, Ellie, Fuzz, Happy, Jester, Snowbell
Pharaoh Hound
North Africa produced this noble gentleman thousands of years ago. Beloved for his affectionate ways, he makes an excellent dog for families with kids. He's fabulous with other dogs, too but isn't recommended if you have small dogs and cats.
Daily exercise is vital for his well-being, with long walks or off-leash runs in enclosed spaces recommended.
Top picks for pharaoh hound dog names: Asim, Auset, Copper, Foxy, Khufu, Sandy, Xerxes
Rhodesian Ridgeback
The ridgeback's roots began in South Africa as a hunting dog. Named for the distinct ridge of hair along his back, the ridgeback soon transitioned to being an all-around farm dog, fulfilling odds and ends tasks for his family. Today, his large, athletic frame makes him a favorite among hikers, as he has impressive stamina on the trail.
Daily exercise is a must for him, as is early and ongoing obedience training to put his mind to work. Socialization is also essential in curbing his tendency toward being aloof with strangers.
Top picks for Rhodesian ridgebacks (and Rhodesian ridgeback mixes): Amity, Archer, Charlize, Hunter, Maxie, Theron, Zinnia
Saluki
The saluki first appeared in Egypt as a hunting dog and companion thousands of years ago, and it doesn't get much more sleek and sophisticated than this sighthound.
With feathered ears and a flowing gait, he's the dog world's runway model, gliding across dog shows with perfect poise… until he sees a rabbit. For this reason, you should never trust your saluki off-leash. Like other sighthounds, training him can be difficult. He's astoundingly independent, preferring his way over yours any day of the week.
Top picks for saluki dog names: Bullet, Donatella, Jet, Klum, Magic, Phaedra, Whisper
Sloughi
The sloughi is a sighthound from North Africa with a gentle spirit. Like several other sighthounds, his breed dates back thousands of years. He's retained his independent nature, but he's on the sensitive side, so always use positive training methods.
The sloughi is calm around the house, though daily exercise is required to help him live his fullest life. Frequent runs in an enclosed yard is best, though he'd enjoy a leashed jog by your side too.
Top picks for sloughi dog names: Bastet, Diesel, Hafsah, Iggy, Lark, Zipper, Zola
***
FAQs About African Dog Names
Still not sold on a particular African dog name? Have more questions about a specific African name for your dog? We've tried to answer a few common questions below!
What is a good name for an African wild dog?
Have an African wild dog? How'd you get him?! Does he make a good pet?
At any rate, we think "Moto" (a Swahili word for "hot), "Kiboko" (Swahili for "hippo"), or "Tamu" (Swahili for "sweet") would be great options.
Africa is well-known for its considerable wild dog population, with some becoming beloved village dogs who are cared for by the community or adopted out. Also consider using the region or town area where an African wild dog is from for a name idea.
What are African dog names?
There are tons of great African dog name available! You can use a name based off of a location in Africa (like "Kruger") or a Swahili word, (such as "Ayo" which means "joy").
What are some Swahili names for dogs?
There are many great Swahili names that would serve as great dog names. Some of our favorite include Safia (meaning "pure"), Tambo (meaning "vigorous"), Zuri (meaning "beautiful"), and Jamba (meaning "hero").
What African name means warrior?
"Askari" is a Swahili word for "warrior" that would make a great dog name for a strong canine.
Does your pooch have an African name? Share it with us in the comments!