Thanks to their elongated bodies, tiny little legs and endearing expression, dachshunds are unmistakable. In fact, their unusual and comical appearance has even earned them the nickname "weiner dog."
But while the sight of a dachshund can put a smile on anyone's face, there are actually several dachshund mixes that may be even cuter. We'll let you be the judge — check out 16 of the most adorable dachshund mixes below.
1. Doxle (Dachshund x Beagle)
Photo from 101DogBreeds.com.
I'm not sure if you could make a beagle more fun than they already are, but mixing one with a dachshund is a good start. This particular little chap has a beagle-like body with a face that takes after his wiener-dog parent. His adorable little kerchief doesn't hurt his cuteness either.
2. Dorgi (Dachshund x Corgi)
Photo from Dogable.
If normal corgis are too stocky for you, then you'll have to try a dorgi! Given the combination of personality, intelligence and adventurous spirit provided by the parents, this little pooch is sure to be a great companion. Most will likely excel at agility trials and even dog disc games.
3. Dachshound (Dachshund x Basset Hound)
Photo from 101DogBreeds.com.
Basset hounds already have a long-and-low body plan, but this pooch looks even more stretched out than most. That's probably because of the influence of his weiner-dog parent; otherwise, this pup looks like a pretty standard basset hound.
4. Doxiepin (Dachshund x Miniature Pinscher)
Photo from BuzzSharer.
Doxiepins are great-looking mutts that often feature the body of their dachshund parent with the color-scheme and face of a miniature pinscher. This little pooch actually has a fairly thick build given the two parent breeds, but that just means there's more of her to love.
5. Papshund (Dachshund x Papillon)
Photo from Great Dog Site.
Dachshunds are great dogs, but they do have a few weaknesses. One of the most notable is their timidity around strangers. But when you mix the dachshund's shy genes with the outgoing and over-the-top-friendly genes of a papillon, you get an adorable and friendly little pooch.
6. Goldenshund (Dachshund x Golden Retriever)
Photo from The Holidog Times.
Golden retrievers are one of the most popular dog breeds in the USA, so it isn't terribly surprising to learn that some people have crossed them with dachshunds. The result? A friendly and affectionate pooch with a scruffy coat and eyes that will melt your heart. These mixes need quite a bit of exercise, so they are great for families on the go.
7. Doxbull (Dachshund x Pit Bull)
Photo from BuzzSharer.
Doxbulls are spunky little pups, who combine dachshund-like deference with the exuberance and bold personality common to pit bulls. Given this pit bull influence in their gene pool, you'll want to be sure to socialize these mutts early to make sure they get along well with other dogs.
8. Dameranian (Dachshund x Pomeranian)
Photo from The Holidog Times.
Dachshunds are certainly smart little four-footers, but that doesn't mean they are easy to train. However, by crossing them with a Pomeranian, you end up with a confident, yet malleable mutt that may excel at obedience competitions and agility trials. Plus, dameranians are often too cute for words, given their dachshund-influenced face and fluffy Pomeranian-style coat.
9. Doxiepoo (Poodle x Dachshund)
Photo from BuzzSharer.
Dachshunds are certainly wonderful dogs, but they are sometimes a bit difficult to housebreak and they shed a moderate amount, which can make them too messy for some owners. However, by crossing a dachshund with a breed like the poodle, which takes training well and hardly sheds at all, you can get the perfect apartment pet. And in case you aren't already sold, just look at how cute they are!
10. Chiweenie (Dachshund x Chihuhua)
Photo from 101DogBreeds.com.
If you like dachshunds, but feel they lack the confidence and sense of self importance you'd like, a chiweenie may be exactly what you need. Adorable, affable and affectionate, these little pups are easy to love. Note that some Chihuahuas have long hair, while others have short hair (and they exhibit two different head shapes too), which means that chiweenies are aesthetically variable.
11. Daimaraner (Dachshund x Weimaraner)
Photo from The Holidog Times.
If you want the soulful expression of a Weimaraner in a small package, a daimaraner may be the pooch for you. These are two very different breeds, and their contrasting personalities help to moderate many of their characteristics. For example, Weimaraners are notoriously clingy, but thanks to the dachshund influence, daimaraners are a little more comfortable when mom or dad isn't around.
12. Frenshund (Dachshund x French Bulldog)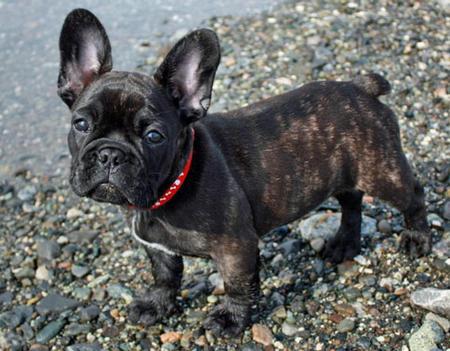 Photo from Popular Breeds of Dogs 2017.
Like the papshunds we mentioned earlier, Frenshunds are often friendlier with strangers than pure dachshunds are. French bulldogs are not always easy to find, so keep your eyes open for great Frenchie-mutts, like this darling little pooch above. They still exhibit most of the great traits of French bulldogs, while also bringing some of the playfulness for which dachshunds are known.
13. Labshund (Dachshund x Labrador Retriever)
Photo from Reddit.
Labshunds pretty much have it all. Friendly? Check. Intelligent? Check. Affectionate? Check. Built like hysterical little hotdogs? You better believe it. Labshunds (also known as Dachsadors) are often a bit bigger and require much more exercise than dachshunds do, so be sure that you are prepared to be a full-time puppy parent before taking this plunge.
14. Terrishund (Dachshund x Terrier)
Photo from PetFinder.
If you want a 20-pound dog who thinks he weighs 200 pounds, a terrishund may be just the dog for you. Full of that spunk for which terriers are famous, terrishunds are energetic, intelligent and easy to train.
Keep in mind that a Dachshund and terrier mix will likely result in quite the ratter dog, so think twice before bringing one of these guys into a house with small mammals around.
Just be sure you want a dog that will prefer to accompany you just about everywhere before picking one of these lovable mongrels.
15. Dachmation (Dachshund x Dalmation)
Photo from The Holidog Times.
You know what makes a dachshund even cuter than it already is? Spots. That must have been the thinking behind the dachmations, who are typically as spotted as they are stretched-out and small. Unfortunately, while they are undoubtedly cute and affectionate with their families, neither parent breed is terribly outgoing with strangers.
16. Dachriever (Dachshund x Float Coated Retriever)
Photo sent from reader Stephanie C.
Sweet Lucy is seen showcasing her glistening flat-coated retriever coat, while maintaining the long and low shape of a Dachshund. As her owner notes "she's long, but short"!
***
So there you have it — 16 of the most incredible dachshund mixes. There are surely others out there, but we're pretty happy with the ones we selected. But that doesn't mean you can't make the case for your own dachshund mix in the comments. Let us know your favorite!
Want more wiener-dog wonder? Check out our articles on: